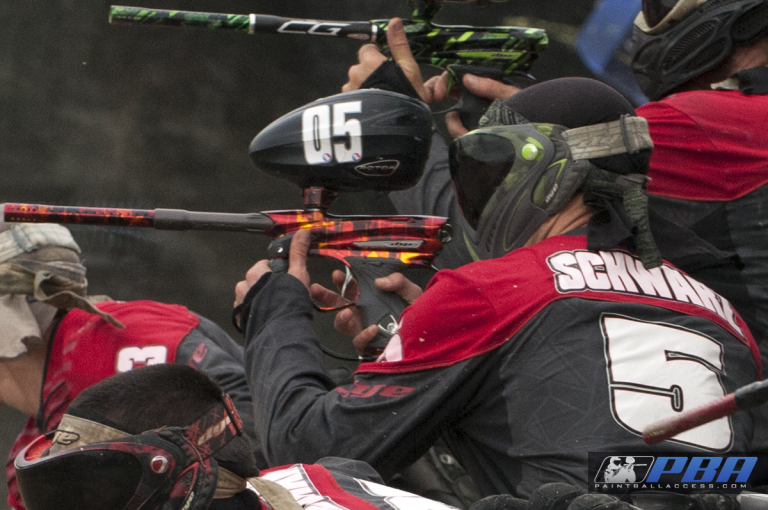 PBA checks in with long time pro Justin Schwarz, just after his tenure on the Los Angeles Ironmen came to an end. Here are his thoughts on the situation, his time in the game, and what he might do next.

So you and the Ironmen have parted ways. What happened?
I wasn't good enough for the roster.

For those fans who may have just got into the game, tell us your history; what is your paintball pedigree?
I have been playing competition paintball since 2000. I have grown to love the sport and all of the places I've had the opportunity to travel, all across the world. I have played for some of the top teams in paintball and have grown a lot over the past 7 years. I went from a kid who didn't take it as serious as I should have, to a young man who is learning the ropes. Paintball has taught me a lot about how to be a team player and to adjust to difficult situations. I love paintball and everything it has done for me.
You've played for a lot of top teams over the years – Ironmen, Infamous, Dynasty – as well as teams overseas. You've been doing this for a long time what was your favorite team to play to play for and why?
I would have to say my favorite team to play for was Dynasty thus far because not only were they a dominant team, but the structure of the program was the most professional I have experienced. The practice schedule was rigorous and we played paintball every weekend. The veterans on the team helped my raw talent to become what it is today and I am very grateful for the experience.
What assets do you have as a player that has let you get this far in the game?
I believe my biggest asset that's got me this far in the game is that I hate to lose more than I love to win. I will do whatever it takes to win when I am on the field regardless of the situation at hand. If we are down bodies I will continue to push and be aggressive in order to help my team win.
You were ranked 31st last year and this year 82nd. You're still in your prime physically; if anything you're in the best shape of your life. How do you feel you're playing this season?
I feel that I am playing alright this season but there is always room for growth. Over the past few seasons I have become more physically fit and changed my eating habits in order to become a better athlete.
What's next for you now? What are your plans?
As of right now I do not have any plans. I am taking a few weeks to think about everything right now and what I want to do. I love paintball and would like to continue to play at the top level. I appreciate everyone who has reached out to me with what has happened in regards to the Ironmen. I have a lot of things to consider and am unsure right now in the direction that I am going to pursue.
What team would you like to play with if you had the chance?
I would like to play for a team with a great work ethic, a professional program, and the will to win. I think if I continue with paintball I will play for a team I can help grow and pass on my knowledge of the sport as a veteran.
What should younger players be working on to further their paintball goals?
Younger players need to realize the mental aspect of the game. Paintball is 90% mental and 10% physical. At the top level everyone has the same guns, gear, and mentality. You need to be strong mentally in order to succeed in this sport. I also recommend being physical and active when you are not playing paintball. It's about who can outlast who mentally and physically on the field.
A lot of players have been in this exact scenario you're in right now, where things didn't work out with their team. What advice would you give to them?
Everything in life happens for a reason and there are no coincidences. You are exactly where you need to be in life and if you don't like a certain situation then change it. Staying positive through a situation like this and in life is one of the most important pieces of advice I can offer.
What do you feel you have gained from playing the game at its highest level for this long and what is your outlook on the future? Are there any lessons you feel you've learned along the way?
I have gained a lot of lifelong lessons playing paintball as well as the worldly knowledge of traveling. My outlook on the future is all about taking it one day at a time and living in the here and now. I have definitely learned a lot about myself, and the things I need to work on as a person. Life has a funny way of teaching us things, and making mistakes is proof you're trying.
Mark your calendars for the 4th event of the 2013 PSP season, the PSP West Coast Open, brought to you live from the AB Brown Sports Complex in Riverside, CA, August 16th – 18th, by Paintball Access.
Can Upton 187 Crew and the Ton Tons fight out of the Challengers Division? Will Houston Heat win their second tournament of the year? Can Dynasty make it to the finals 4 events in row? Find out the answers as the best paintball players in the world fight it out at the PSP West Coast Open!
You Might Also Like: