Looks Change the Line?
Paintball Access' Mike Jeffrey weighs in on the argument on how to structure a pro paintball team's line up. Should you run one line, "starting five" paintball, with all the stars on your team, and sub other players in when they get tired? Or should you roll with two balanced lines? Maybe a hybrid of the two? Let's take a closer look and see what how the PSP pro teams are dealing with this issue this season.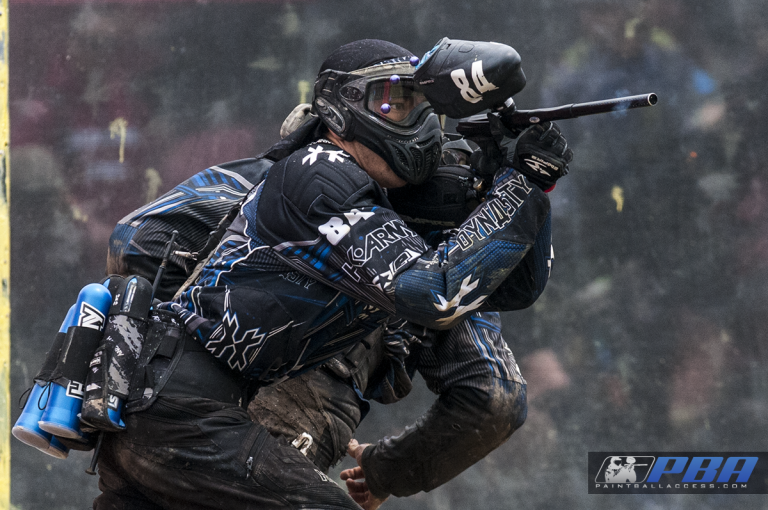 Since the inception of the Race-To format and the challenges presented by the diminutive two-minute gap between points, paintball teams have struggled to devise the superlative strategy for getting the best five players on the field with legs underneath them, breath in their chests, and game plans in their heads.
In recent years, separating ten players into two lines of five and rotating between those lines has transformed from a dominant strategy to a mostly antiquated one. To run two solid lines talent must be evenly spread from top to bottom; it goes without saying that this rarely tends to be the case. If one line outperforms the other, the solution seems easy: turn the better line around back-to-back until the wheels fall off. However, a bigger problem arises when, come match number three or four, your good line is gassed and your bad line is pissed. All of a sudden those two lines that seemed to be clicking equally in practice aren't working like clockwork at all, and you're left with two cliques and a prelims-exit.
As a result, most professional teams, ones with tons of depth and ones with less so, have turned to running "starting-five," "hot hand," "hybrid line" paintball; there are plenty of names for it, but all of these sobriquets essentially demarcate the strategy of picking players on the fly, running five or six guys a lot of the time and the other two or three guys on the roster almost none of the time. It takes a good coach to balance egos, hot and cold streaks, player chemistry, and five different positions in the span of two minutes and it has become clear in the past few years that effective coaching accounts for much of the divergence between good and great teams.
Besides the problems of depth and chemistry, it also takes a high level of conditioning to be able to run the same five to seven guys all weekend long. Five years ago, before the sport achieved the level of professionalism observable now, this wasn't a viable option. It is now. Consequently most teams elect to run their best players at any given event ad nauseum. Of the Pro teams who have yet to be relegated to the Challengers Division (Dynasty, Damage, Heat, Impact, Infamous, Ironmen, X-Factor), only one team, only Dynasty, does not run some variation of "hot hand" paintball. Somehow, Dynasty has found success—two wins and a second place finish through three events—using a strategy abandoned by every other pro team.
If you told me before the season started that Kyle Spicka, a young and unproven pickup from the Ironmen, would play nearly as many points for Dynasty as Alex Fraige I would have laughed in your face. But under Coach Rusty Glaze's watch, the two have split time almost evenly: Fraige has played 55% of Dynasty's points, Spicka 45%. Taking the difference between the player who plays the highest percentage of Dynasty points (Greenspan 68%) and lowest percentage (Yarber 39%), we find that Dynasty's most played player plays 29% more frequently than their least. This may not seem significant until you compare it to the other teams who have never been relegated to the Challengers division. On Heat, Fedorov plays 61% more frequently than Bouchez; on Impact, Rabackoff 39% more frequently than Bains; on Damage, Edwards 39% more frequently than El-Yousef; on Infamous, Ryan 61% more frequently than Trillet; on Ironmen, Goldman 63% more frequently than Bornstein; on X Factor, Montemayor 63% more frequently than Morrow.
In some cases there are obvious reasons for the disparity of points played. Fedorov is having a monster year (Ranked 7th Overall, Ranked 1st G-Rating, 118 Total Kills) and Bouchez is having a tough time (0.42 Kill Per Point, Ranked 117th Overall). A case can also be made that teams like Ironmen, Infamous and X-Factor who have had less success and therefore played from behind more often need to turn to their stars when facing deficits. However, the case can also be made that Kyle Spicka would not be 3rd overall in G-Rating and Blake Yarber 11th without Rusty Glaze making the decision to build two lines and stick to them. How many people this year have been shocked when Rusty elected to run a line that was not based around just Yosh Rau, Ryan Greenspan, Oliver Lang, and Alex Fraige, in must win situations?
While Dynasty's success so far this season cannot be explained so simply—and keep in mind Heat's win in Chicago using hot-hand paintball—Rusty's decision to stick with a pure two-line system has reignited the debate over the best way to run a paintball team.
Let's take a look at some of the numbers behind this:
Dynasty: Active Roster: 10
Top: % of points Greenspan – 68, Vanderbyl 61, Fraige 55 Bottom: Short 47, Spicka 45, Yarber 39
Difference between Most and Least: 29
% Won – Greenspan 65, Vanderbyl 61, Fraige 61 Bottom: Short 58, Spicka 67, Yarber 65
G Rating – Greenspan 63, Vanderbyl 72, Fraige 57 Bottom: Short 20, Spicka 99, Yarber 84
Survival Rating – Greenspan 77, Vanderbyl 63, Fraige 60 Bottom: Short 58, Spicka 46, Yarber 44
Winfluence Rating – Greenspan 63, Vanderbyl 38, Fraige 37 Bottom: Short 23, Spicka 70, Yarber 58
Penalty Rating – Greenspan 61, Vanderbyl 76, Fraige 87 Bottom: Short 0, Spicka 0, Yarber 42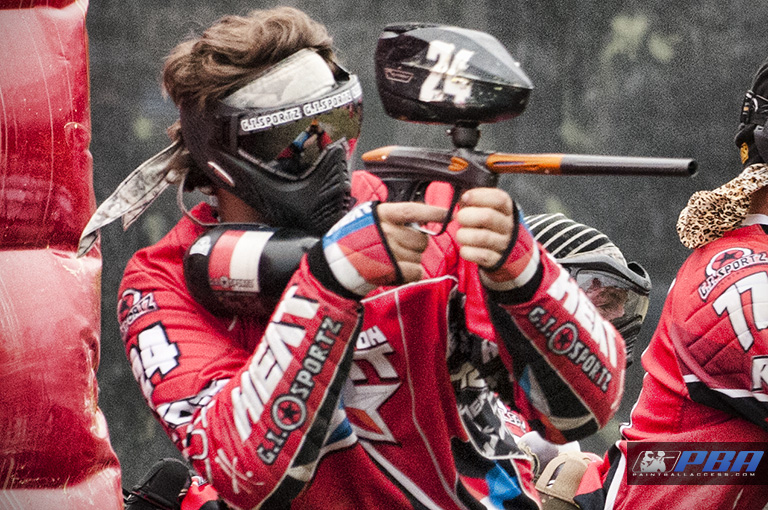 Heat: Active Roster: 11
Top: % of points – Fedorov 84, Solnyshkov 82, Mikhail Knyazev 66 Bottom: Slowiak 24, Smith 17, Bouchez, 16
Difference: 68
% Won – Fedorov 58, Solnyshkov 56, Knyazev 58 Bottom: Slowiak 54, Smith 54, Bouchez 47
G Rating – Fedorov 106, Solnyshkov 59, Knyazev 65 Bottom: 85, Smith 7, Bouchez 29
Survival Rating – Fedorov 46, Solnyshkov 52, Knyazev 49 Bottom: Slowiak 53, Smith 25, Bouchez -32
Winfluence – Fedorov 65, Solnyshkov 54, Knyazev 63 Bottom: Slowiak 40, Smith 39, Bouchez 4
Penalty Rating – Fedorov 65, Solnyshkov 0, Knyazev 63 Bottom: Slowiak 0, Smith 84, Bouchez 171
Impact: Active Roster: 9
Top: % of points – Rabackoff 74, Moorhead 68, Cornell 64 Bottom: Bains 35, Yachimec 39, Montressor 46
Difference: 39
% Won – Rabackoff 56,Moorhead 60, Cornell 55 Bottom: Bains 66, Yachimec 60, Montressor 59
G Rating – Rabackoff 102, Moorhead 90, Cornell 55 Bottom: Bains 80, Yachimec 62, Montressor 40
Survival Rating – Rabackoff 68, Moorhead 30, Cornell 37 Bottom: Bains 71, Yachimec 99, Montressor 91
Winfluence – Rabackoff 47, Moorhead 69, Cornell 39 Bottom: Bains 105, Yachimec 68, Montressor 65
Penalty Rating – Rabackoff 48, Moorhead 61, Cornell 66 Bottom: Bains 51, Yachimec 31, Montressor 28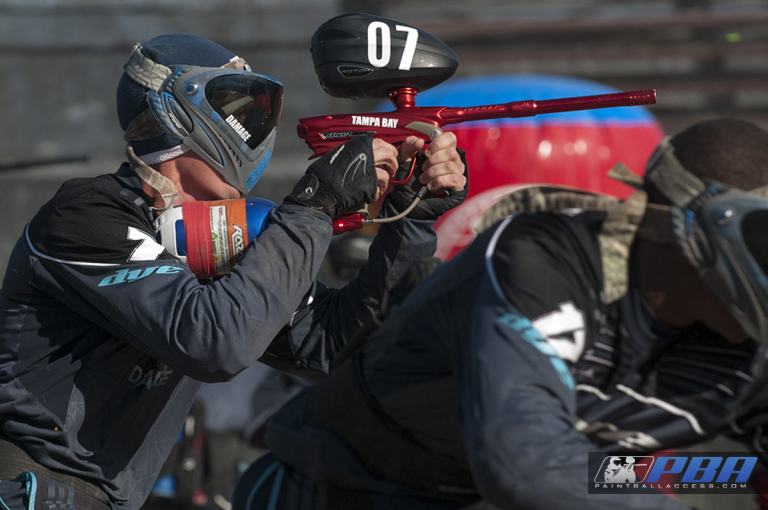 Damage: Active Roster: 8
Top: % of points – Edwards 74, Busiere 72, Propst 69 Bottom: Stanczak 51, Holliday 40, El-Yousef 35
Difference: 39
% Won – Edwards 57, Busiere 60, Propst 58 Bottom: Stanczak 59, Holliday 55, El-Yousef 55
G Rating – Edwards 92, Busiere 81, Propst 47 Bottom: Stanczak 35, Holliday 35, El-Yousef 68
Survival Rating – Edwards 81, Busiere 38, Propst 61 Bottom: Stanczak 67, Holliday 32, El-Yousef 70
Winfluence – Edwards 37, Busiere 53, Propst 44 Bottom: Stanczak 52, Holliday 29, El-Yousef 27
Penalty Rating – Edwards 32, Busiere 42, Propst 73 Bottom: Stanczak 71, Holliday 31, El-Yousef 33
Infamous: Active Roster: 8
Top: % of Points – Ryan 96, Templeton 79, Aviles 78 Bottom: McCurley 48, Mayo 35, Trillet 35
Difference: 61
% Won – Ryan 54, Templeton 52, Aviles 56 Bottom: McCurley 47, Mayo 47, Trillet 48
G Rating – Ryan 85, Templeton 51, Aviles 71 Bottom: McCurley 57, Mayo 40, Trillet 35
Survival Rating – Ryan 81, Templeton 41, Aviles 82 Bottom: McCurley 39, Mayo 24, Trillet 40
Winfluence – Ryan 59, Templeton 49, Aviles 67 Bottom: McCurley 21, Mayo 28, Trillet 24
Penalty Rating – Ryan 34, Templeton 31, Aviles 39 Bottom: McCurley 41, Mayo 41, Trillet 0
Ironmen: Active Roster: 9
Top % of Points – Goldman 86, Margott 85, Pitts 75 Bottom: Paxson 41, McCormick 41, Bornstein 23
Difference: 63
% Won – Goldman49, Margott 49, Pitts 47 Bottom: Paxson 48, McCormick 37, Bornstein 30
G Rating – Goldman 49, Margott 85, Pitts 58 Bottom: Paxson 10, McCormick 23, Bornstein 87
Survival Rating – Goldman 59, Margott 79, Pitts 51 Bottom: Paxson 38, McCormick 65, Bornstein 6
Winfluence – Goldman, 63, Margott 60, Pitts 51 Bottom: Paxson 55, McCormick 27, Bornstein -50
Penalty Rating – Goldman 40, Margott 0, Pitts 0 Bottom: Paxson 32, McCormick 0, Bronstein 0
X-Factor: Active Roster: 9
Top % Points played – Montemayor 85, Goff 80, Roberts 78 Bottom: Kemp 40, Morrow 22, Wake 33
Difference: 63
Note that 9 of Dynasty's 10 players are in the Top 12 for Win Rating (Obviously this is skewed somewhat by the fact that they've won two tournaments) However, Impact (who hasn't won anything, has 5 in the top 20). This will be an evolving coaching and organizational issue, and we'll just have to see how things play out with the best teams in the world as the PSP season continues next month.
Mark your calendars for the 4th event of the 2013 PSP season, the PSP West Coast Open, brought to you live from the AB Brown Sports Complex in Riverside, CA, August 16th – 18th, by Paintball Access.
Can Upton 187 Crew and the Ton Tons fight out of the Challengers Division? Will Houston Heat win their second tournament of the year? Can Dynasty make it to the finals 4 events in row? Find out the answers as the best paintball players in the world fight it out at the PSP West Coast Open!
You Might Also Like: