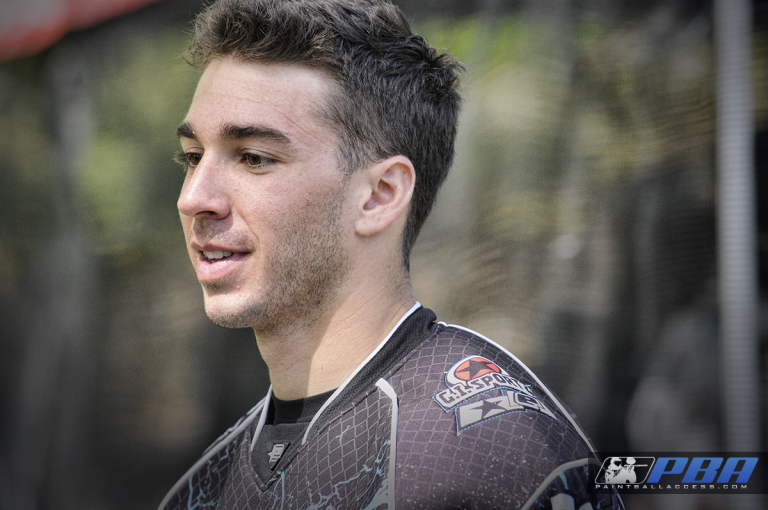 San Antonio X-Factor has a new killer on their team this season and his name is Demetri Ninios. X-Factor has been trying for the past two seasons to reclaim the glory they earned early in their PSP careers. They took 3rd at the World Cup last season, but since then, they haven't played as well as they would like, finishing 10th 6th, and 8th at the three events so far this PSP season. PBA's Matty Marshall touches base with Ninios to get his thoughts on the year, and his career, so far.
So Demetri, you've been turning heads this year, you are ranked 45th in the Overall Player Ranking, and your skills are garnering respect and good reviews from your new peers. What made you want to play for San Antonio X-Factor? And how does it feel to be in the PSP pro division?
Thank you Matty! I've always been pretty close on the radar with Al (Alex Martinez, the owner of the team), and this year he and I met in the beginning and had straight forward conversation about what my goals were as a player and what his goals were for the team, came out to practice and everything clicked, now I'm here!
To me it doesn't feel any different than Division 1, but I also look at it differently, I see it as, "I am a competitor, and I want to contribute, in any division, on any team, in any league."
Everyone knows the first attacker on the snake side of the field is the hardest position mentally to play, how do you deal with the pressure of a rookie year in the PSP big leagues and in playing a difficult position?
Absolutely, there are a lot of things going on especially as a rookie, there's the crowd yelling, your coach yelling, and not to mention you are a little baby seal swimming in an ocean of hungry great white sharks. Sorry, had to get that Shark Week reference in. So like you said it can be very difficult to be successful. But it's all on you. I use my will, and I play with the passion we all have for this game, to motivate myself for performance.
Tell us your paintball history, where did you come from and how did you get in the position your in currently?
Oh boy, let me summarize this best I can.
I hit the tournament scene in '07 which was pretty rough in North Texas as a lot of people had dropped out because of the economy and blah blah blah, you've heard it all before. But the thing was, I wanted to compete at the highest level I could so playing D3 wasn't really an option for me. Or at least an option I would consider. So I branched out, made relationships everywhere, played in the CFOA, WCPPL, went to practices out of the state for exposure, where I finally found my new home in North Carolina, with a team called Raiden; they basically jump started my career. We had a mix of Gridlock/Trauma players and me, then a 14-year-old kid from Texas that no one ever heard of. We ended up winning World Cup in 2009 and shortly after the team disbanded due to lack of interest by the owner. I was left with no team again, but this time I had the relationships and made somewhat of a name for myself in the Divisional world.
I played with New Jersey Jesters for 2 seasons with my buddy Matt Sossoman. We won a few events, but by that time I was just over playing out of state, so I started playing with Texas Storm, but that was only for one season before I made the decision to make my pro debut with X-Factor. Special thanks to Greg Pauley, who helped me find my focus and gave me the tools necessary to compete at the pro level.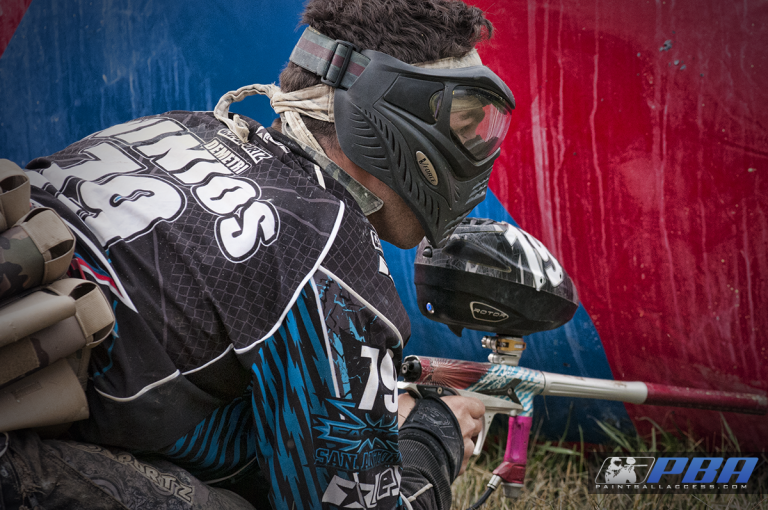 Wow, that's a hell of a paintball adventure on you way to the pro leagues. Are there any players you currently look up to on the circuit, guys who you feel are defining what it means to be a professional paintball player?
Ryan Greenspan (Dynasty), Bryan Smith (Damage), and Mishka Kniazev (Heat).
And who did you look up and aspire to be when you first started out?
Oh man, Oliver Lang, Cliché answer but it's true and to think he and I play on the same team over seas is just a childhood dream come true. /endpaintballnerdtalk
Texas teams are well represented in the top ranks of paintball, even in the Divisional leagues the teams from your area of the world are solid. What do you think it is about Texas that produces great paintball players?
I'd like to think it's mental toughness and just guys being scrappier overall than their competition. Players in the Midwest just aren't as kind as the ones found on the East or West coasts, there is no respect gained by getting 10th in your division anymore; if you don't come home with 1st, it's like you never went to the tournament. It also helps to have Greg Pauley in the mix now with the organization we run out of North Texas, called AC, which gives kids that "Will to Win" in a positive environment and is developing players who will one day be replacing me.
What has been your best on field moment so far this season?
Hmm, whenever I am on the starting line I am stoked, being the guy who your team has complete trust in, as a rookie, is surreal.
And your worst and/or hardest moment?
That's easy: In Dallas I got a horrible major against Houston Heat when we had, I think, a 3 or 4 point lead over them and let them back into the match.
What would you say are the things you're working on right now, where are you deficient?
Well, it's really all in my head, and being able to harness that "5th Gear" or that "Refuse to Lose" mentality. You'll see players like Glenn Takemoto, Archie Montemayor, Mishka, who are always in the fight, always a threat, even when it's 3 on 1, or similar low body scenarios, which makes teams who have the advantage second guess their moves because if you give that guy an opportunity, he'll pull it out like it was nothing.
X-Factor hasn't had the year you guys wanted to have, what is it going to take to get the team back on top?
I agree, we haven't had the year we wanted to have and really there isn't an excuse. We have the sponsors, facility, and staff to make this a winning team.
I think it comes down to the players. In all honesty, I know I haven't been the player I can be, and I think that goes for everyone on our team. So, we'll see in two weeks if we're all on the same page.
Mark your calendars for the 4th event of the 2013 PSP season, the PSP West Coast Open, brought to you live from the AB Brown Sports Complex in Riverside, CA, August 16th – 18th, by Paintball Access.
Can Upton 187 Crew and the Ton Tons fight out of the Challengers Division? Will Houston Heat win their second tournament of the year? Can Dynasty make it to the finals 4 events in row? Find out the answers as the best paintball players in the world fight it out at the PSP West Coast Open!
You Might Also Like: