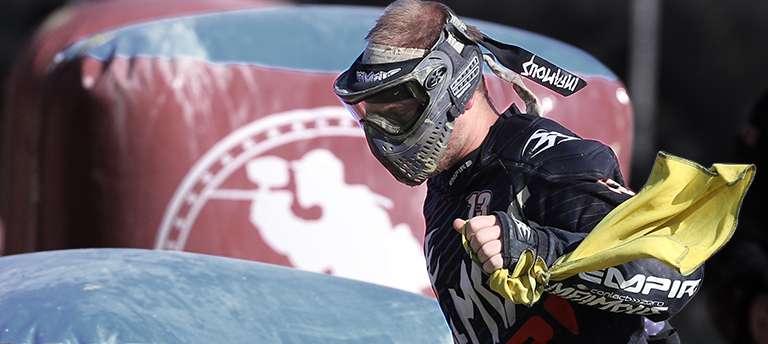 Los Angeles Infamous has underperformed this season in the PSP, the highest they've been able to finish is 3rd at the first event in Dallas, despite having one of the best rosters in the league. Last year they won the PSP Chicago Open, threated all season, and they have found success in Europe by winning a Millennium event in London a few months ago. They still are one of only five teams to have won a PSP event in the past 3 years, during which they've won two. Brad McCurley's gusty performance was one of the few bright spots at the West Coast Open for Infamous. He dislocated his shoulder diving into the snake early during their first match of the event, but still managed to shoot 4 players during that point. He went on to finish the event, and looked amazing while playing through the injury. PBA touches base with McCurley to talk about the injury and his team.   
Tell us what happened to your shoulder? Had this been a problem for you before?
In the second to last point of our first match against Top Gun, I went flying down the snake side. I saw an opportunity to take a lot of ground and jumped on it…literally. Apparently when I dove into the snake, I landed weird causing me to dislocate my shoulder. This was a new one for me, so I wasn't exactly sure what happened right away. Luckily my adrenaline was pumping and I was able to finish the point and managed to scrap up a four-piece along the way (laughs). It wasn't until I got back into the pit that the pain started setting in. Thankfully my boys Rich Telford and Billy Ceranski have put back a few shoulders in their day, so they were able to help me get it back in place.
So we first heard you had injured your shoulder and that you wouldn't be returning, but then you came back and played out the event. When did you decide you were going to play through the injury?
After injuring my shoulder at the end of our first game, I made my way over to the snake side of the field to coach my teammates as they played Damage. It was watching the game from the sideline that made me decide that I have to try and make it work. As a professional you have to have confidence and believe in yourself. At that point I thought, hurt or not, I could get it done better than anyone out there. My team needed me and I wasn't about to let them down.
What was going through your mind when it happened? You've been through a bad injury recently with your knee, was that in the back of your mind? 
Honestly, the frustration and anger of the situation was bothering me more than the pain. We put a lot into this. Much more than most know. So I was just pissed off at another set-back. I had just finished going through 7 months of rehab on my knee and had finally put that brutal injury behind me and now this. But luckily, (I'm keeping my fingers crossed) I don't think anything is seriously damaged in my shoulder and I should be back to 100% in no time.
You played great on that treacherous snake side, which wasn't easy to play; lot's of people were dying over there, but you were doing work towards the end of the event. How?
We all knew going into the event how hard it was going to be to live on the break on that side of the field. As the "1", the first attacker, it was either put your head down, shake the dice, and hope for the best or run with your gun up and protect yourself by putting pressure back on the opposing player laning for you. I think the key to living was constantly changing it up between the two methods and utilizing different routes. If you were going to run with your gun up, you really had to be accurate and as the event went on, I really had that shot dialed in. I was picking up quick kills out of the center, making it easy to fly down that side, especially when my teammates did a good job of keeping opponents from getting wide.
What's going on with Infamous? Some days you guys look great and other days you don't look like the same team. What's the answer for the issues the team is having this season?
Our issue this year has been getting everyone producing across the board. Some games, a few guys will play well but others will struggle to produce and other games, it's the opposite. We're having trouble being consistent across the board. At the professional level, you can't win with one or two guys getting it done. You need the whole unit playing together and off of each other like a well oiled machine. We just need to come back together as a unit and remember what it means to fight for one another for one common goal; to win.
What should fans and opposing teams expect from Infamous at World Cup?
Fans and opposing teams should expect nothing less than a pissed off Infamous family at World Cup. We know we're better than what we've shown all year and World Cup is the perfect place to prove it. We'll be ready… will you?
Can Infamous redeem their year at the World Cap? Mark your calendars for the biggest tournament in the world, the 2013 PSP World Cup, which takes place at the Fantasy of Flight, in Orlando Florida. Go to pspevents.com to sign up for the event. The best teams in the world will be fighting across multiple divisions of competition to determine who's the best. Paintball Access will be bringing the all the action live, October 16th-20th. Don't miss it!
You Might Also Like: