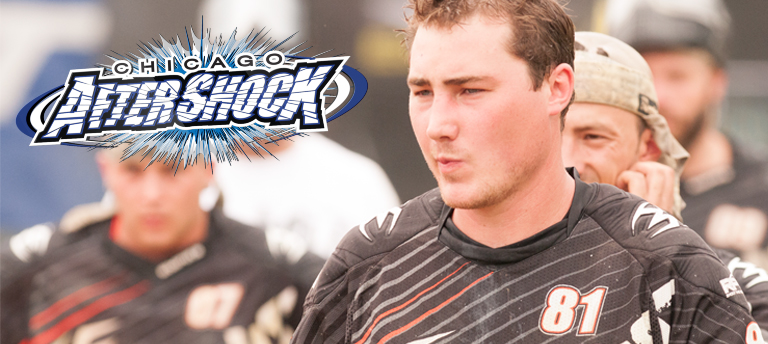 Los Angeles Infamous escaped getting relegated when they demolished Omaha Vicious 7-1 Sunday morning at the PSP West Coast Open. They will be competing in the Champions League at World Cup, but this is the 3rd time this season they've had fight to keep their spot in the Champions Division. They will be losing Chris Sosine, who hasn't seen much playing time this season, but did have some clutch points in 2012. He returns to the team he started playing pro paintball with, Chicago Aftershock.
Aftershock is historically the most successful team at World Cup, with 5 World Cup titles, but their last Cup win was over a decade ago. They did take 2nd place in 2010, but the next season the team saw an exodus of their star players towards the end of the year. Since then they've been rebuilding the team, and struggling to win games.
PBA checks in with Sosine to talk about his move over to 'Shock.
Why did you decide to leave Infamous? And what, in your opinion, is keeping Infamous from living up to their potential?
I decided to leave the team mostly because with Infamous having such a stacked roster, I wasn't receiving much playing time. I needed to get back on field where I belong. Having played for Bruno in the past, as well as being former teammates with Davey Simmons, Carl Markowski, AJ Lawhead, and Cliff Ginter, I knew Aftershock would be a great fit for me. I think Infamous has been struggling this season mostly due to the fact that everyone isn't coming together as one unit. They all need to get back on the same page if they want to start winning PSP events again.
What is the morale like on both teams right now, as far as you know? Infamous has been underperforming all year in the PSP but they keep saving their spot in the Champions Division, and Shock just had their best event in two years, and will be playing in the Champs division as well for the first time since getting relegated down to the Challengers Division at the beginning of the year.   
I feel like the morale on Aftershock is extremely high right now. They seemed to be coming together as a team, hence their great performance in Riverside. Infamous on the other hand seems to be struggling with everyone not being on the same page. Knowing those guys very well, they shouldn't have a problem getting everything in line for World cup. As far as Infamous having to play on Sunday at the last three events to keep their spot in the Champions Division, it hasn't been an issue. They've handled whoever they have come up against with ease, but I know they would much rather be playing for first place on Sunday. Aftershock has been rebuilding the team for the last two years after losing core players to Infamous and Heat. They have come a long way since then and it's huge for Aftershock to finally get out of the Challengers bracket. After their great performance they definitely deserve a shot at the Cup. I hope that I can help them get back on top again.
What roll do you see yourself playing on 'Shock? Seems like they need a guy like you, with all the front players stacked on the team.
I see myself bringing a lot of experience to the team and hope to be a leader and role model for the younger players. There are a lot of fast, in your face front players on the team right now like Kirk Wozney, Caleb Abuhl, Davey Simmons, and Carl Marckowski. I hope to bring more depth to the team as a back player and closer. I'd like to teach the younger players the type of attitude and will it takes to be a champion.
Is there any bad blood from when you first left Aftershock?
 Not as far as I know. Bruno (Aftershock's coach) might tell you otherwise.
When Aftershock takes the field at World Cup Oct what should people except from the team?
When we take the field at World Cup you will see a team that is going to leave their hearts out on the field. We will be playing the same in-your-face-paintball Aftershock is known for. Aftershock is on the rise. Midwest What!
Mark your calendars for the biggest tournament in the world, the 2013 PSP World Cup, which takes place at the Fantasy of Flight, in Orlando Florida. Go to pspevents.com to sign up for the event. The best teams in the world will be fighting across multiple divisions of competition to determine who's the best. Paintball Access will be bringing the all the action live, October 16th-20th. Don't miss it!  
You Might Also Like: