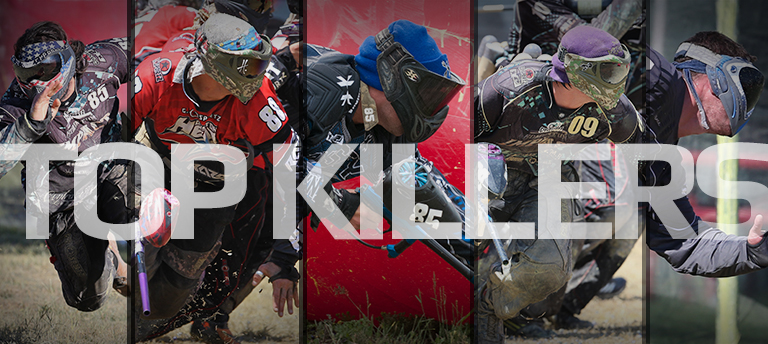 G-Rating Statistics – The Kill Count  
The PSP West Coast Open had a brutal field layout, where making any position wasn't a certainty, and players were forced to get brave and creative in figuring out ways to get to their bunkers. The field played fast, mostly because of the open lanes off the break that caused bodies to drop early, and there were many different attacking options once you survived the breakout.
Not every statistic is created equal; the G-Count Rating, how many kills each player averages per point played, is the mightiest of them all; it's 30% of a player's overall ranking, because you can't win games without shooting people. As you can see from the numbers below, anything close to one kill per point is the measure of greatness in this sport.
Behold, the top killers of 2013, through four events.
Ranked 1st      Konstantin Fedorov – Houston Heat
Points played: 177      Kills: 168      G-Rating: 0.95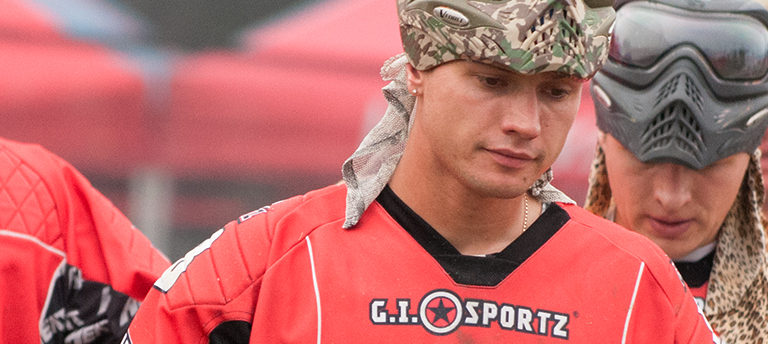 Though Houston Heat did not win another event in Riverside, losing a very close game to Impact in the Semi Finals, they still put in a solid performance and their star player, Konstantin Fedorov, had another amazing event. The numbers prove this guy is the best killer in the game. His combination of speed, agility, timing and experience make him deadly and versatile. He leading the pack in this stat by a solid margin; the difference between Fedorov and the second place is greater than the difference between 5th and 2nd place, and he's leading in both Total Kill and Kills Per Point. He is, by far, one of the most entertaining players to watch because you never know what he's going to do.
Ranked 2nd   Justin Rabackoff  – Edmonton Impact   
Points played 145      Kills: 126        G-Rating:  0.87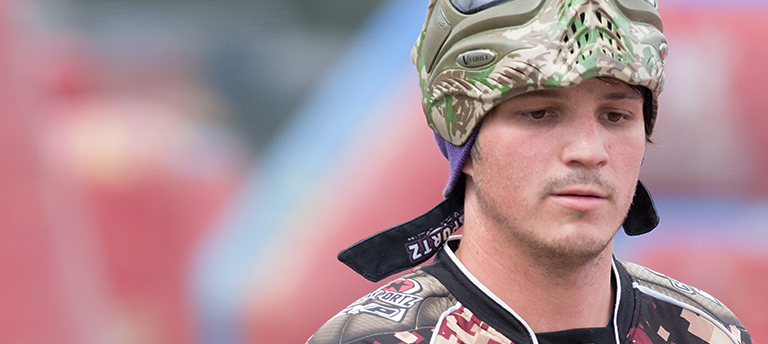 Justin Rabackoff came up as a workhorse front player, a guy who you could always count on to attack, point after point.  The fact he's the second ranked killer in the league should be evidence to all those critics who felt he wasn't the same player last year when he was on Damage that he is, indeed, a force to be reckoned with. He's getting a ton of spins on a team stacked with stars, and is always working for to create a seam, always looking to create an attack window. His fluid style and creativity under pressure make him one of the best weapons for Impact in their quest for another long awaited PSP win. After Chicago we said that it looks to be a matter of time until Impact can get all their players on the same page during big games on Sunday and earn their way into the finals, and they did exactly that at the West Coast Open. But they lost to Damage in the finals, and now look to World Cup, the biggest stage in the sport, to redeem themselves.
Ranked 3rd      Ramzi El-Yousef – Tampa Bay Damage    
Points played: 81      Kills: 69         G-Rating: 0.85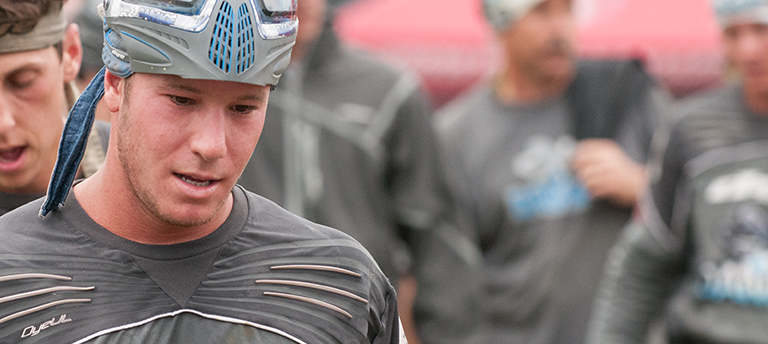 Every team has its unsung heroes, players who don't get the press their more famous teammates receive. Tampa Bay Damage's El-Yousef is one of these players. He's not fast or flashy but he's diligent and he's been getting the job done, and making the most of the points he's playing. With 81 Points Played, he has the least amount of spins out of all the other G-Rating (Kill count) leaders. But teams get really hard to beat when they have the majority of their roster playing well. Ramzi has been around for years, but he's playing the best paintball of his career right now, and really helping Damage win points, games, and tournaments. It's hard to shine when you're surrounded by stars, but that's exactly what El-Yousef is doing in 2013.
Ranked 4th    Ryan Moorhead – Edmonton Impact  
Points Played: 130    Kills: 108      G-Rating:  0.83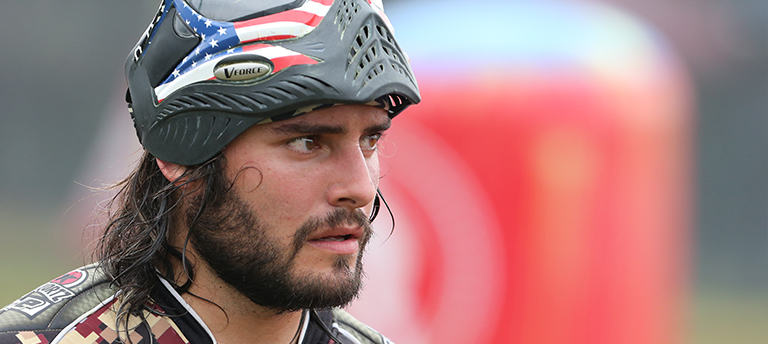 Calm under pressure, Moorhead looks exactly like what he is: one of the most experienced and productive first attackers (the "1s") in paintball. Many players slowly move farther back during their careers, moving into the "2" or "3" position, but Moorhead is still up front, running people down, and looking good doing it. Moorhead is one facet of a deep attacking core Impact now has on their team. Also, as most front players normally are dedicated to one side of the field, Moorhead switched over to the snake side this season, and the change of scenery has suited him well, though he's been predominately a D-side player for years. Moorhead and the rest of the crew from Impact are hungry to get back to the podium, and they came close in Riverside. Impact will be one of the heavy favorites at the World Cup.
Ranked 5rd      Kyle Spicka – San Diego Dynasty    
Points played: 102     Kills: 84         G-Rating: 0.82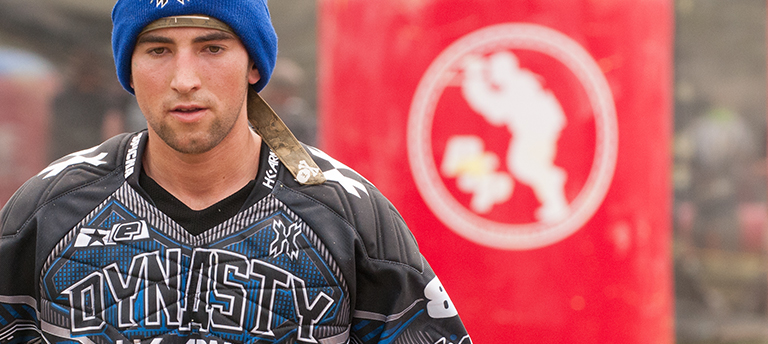 Though Dynasty was knocked out early and did not play on Sunday for the first time this season, Kyle Spicka has proved he belongs with the talented crew from San Diego, arguably the best paintball team ever. Spicka has a great success story and his ability to will himself to the top of the game should be an inspiration to anyone who wants to be playing alongside the best. He's fast, small, and has finally begun to trust his instincts, which is why he's producing the numbers we've seen out of him this year. If he keeps his head about him and stays focused, Spicka will have a long successful paintball career.
If you just look at Total Kills for the year, instead of Kills Per Point (G-Rating), here's the list of Top Killers:
1. Konstantin Fedorov – 168
2. Damian Ryan – 144
3. Justin Rabackoff – 126
4.  Jason Edwards – 114
5.  Archie Montemayor- 111
6.  Ryan Moorhead – 108
7.  (Tied) Marcello Margott- 107
7. (Tied) Chad Busiere- 107
9. Bobby Aviles  – 105
10. Mikhail Knyazev – 98
Check out all the G-rating stats here, and draw your own conclusions. 
Mark your calendars for the biggest tournament in the world, the 2013 PSP World Cup, which takes place at the Fantasy of Flight, in Orlando, Florida. Go to pspevents.com to sign up for the event. The best teams in the world will be fighting across multiple divisions of competition to determine who's the best. Paintball Access will be bringing the all the action live, October 16th-20th. Don't miss it!  
You Might Also Like: