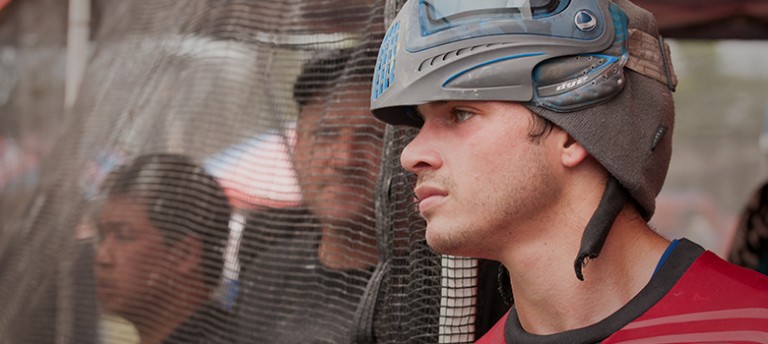 I've been forced to change perspectives, again. From a player to a fan all in a matter of seconds. One missed step and I'm out with a broken hand. I was helping my little brother, Paul, move into his new place July 23rd, when suddenly the dynamic of my season was changed. We were carrying a large dresser through his front door and I was leading it in with my hands holding the top right and bottom left corners. As we tried to wiggle it through, Paul took a big step forward crushing my right hand in between the doorway and the dresser. That was that, I knew right away that I broke the bone, I just didn't want to believe it.
As familiar thoughts of my season ending raced through my mind I refused to accept that paintball was going to be ripped away from me again. That night my hand swelled up like a baseball and I kept it on ice for hours. The following day much of the swelling had gone down but I knew I had to get it checked out, so I went to the ER where I learned that I had broken my 5th metacarpal.
My first question was, "How long will this take to heal?" Not hearing the answer I wanted (6 to 8 weeks), I refused to accept I wouldn't be able to play the next PSP event. So I made an appointment with a highly recommended orthopedist my physical therapist, Navid Hannanvash, helped me find. Navid has been there with me from the beginning of my ACL comeback and I don't think everything would have gone as smooth without him so I trust his judgment.
Long story short, the doctor told me he recommended surgery and 4 weeks of wearing a cast, I said no way, there has to be a better option. I took into consideration I could further injure my hand. But I quickly came to the conclusion that it's a crucial point in the season, we have tough competition in our bracket, and it's the tournament right before World Cup. A lot is on the line and I can't let the team down. I wont let the team down.
I decided not to have surgery, I will let it heal on its own and worst case scenario I will have surgery at the end of the season. For now it will be taped up and held together so I can compete with my brothers.
I knew what I was faced with – a tough task of making sure the bone heals properly while simultaneously getting a jumpstart on physical therapy. The PSP Riverside event was 3 weeks and 3 days after the initial injury. I will have to keep it fairly immobilized for as much of that timetable as possible leaving me little time to get strength and mobility back before the tournament.
I spent the last two weekends on the other side of the net with the coaches doing everything I could to help contribute to the team. It was killing me not being able to be on the field, learning the layout with them, but I took this opportunity to look at the game a different way. I watched every point and did my best to learn from my teammates. In a situation like this, that's all you can do, there's no time to sit there feeling sorry for yourself. You have to accept the circumstances and take advantage of every other opportunity that opens because of it. This has given me the chance to watch our team from the outside and help us improve.
Sometimes you get so caught up in playing it's hard to ever have a full understanding of what's going wrong, and let's face it, something has been going wrong; there's a reason we haven't won yet. It's been fun, putting together game plans and watching the team play without me. It's crazy, we have so much talent, watching the games it was like who is going to win this point for us? We have so many players who can step up and win a game at any point, which makes the team fun to watch. It was clear to me our team isn't far off, which is what I've been saying all year. Chemistry is what has been causing us to lose. Once we figure out a way for us all to be in rhythm, working together and playing explosively off each other, we are going to be unstoppable. I think we have made moves in that direction after the departure of LJ and Corey Bornstein.
We picked up 2 new kids I am really excited about, Nate Schroeder and Brandon Cornell. Both have a lot of potential and I am excited to have them in the Ironmen camp. I really see these two becoming a core part of our team for years to come. I have spent the last two weekends working with them on technical and theoretical skills to help make the transition to pro as easy as possible. I expect big things from the both of them as they are extremely talented and have age on their side. Brandon is 16 and Nate is 23. The sky is the limit with them and under coach Mike Hinman they have an opportunity to evolve into something great.
The Ironmen are heading in the right direction; though it may seem like things are falling apart, the team feels things are finally falling together. We are becoming a tight group of brothers and all of this adversity we've faced has only helped to build a strong mental foundation as the base of our team. The Ironmen are hungry, and will continue to put in the work for each other, and ourselves. We are building and structuring things to be a #1 team for the next 5 to 10 years, which takes time. We are right where we need to be.
As for my fitness, I haven't stopped working out. This has been a great opportunity for me to focus on my legs and gain some serious strength in my wheels so I'm taking full advantage of it. This weekend will be our last practice before the event and it's a 3-day against Impact. I probably won't be able to play but I will bring my gear and suit up so I can do drills.
When things like this happen, you have to put aside any doubt something could go wrong and fully believe in yourself. You have to put in the extra work that will compensate for missed time. It's about finding REASONS to overcome rather than EXCUSES to fail. Sure this is going to be a really tough task, but I'm up for it. I'm excited to shoot my gun this weekend and get that comfort back in my grip. I will focus on snap shooting and running and gunning. I figure if I can get that back to the upper 80% my mind can handle the rest.
With the chances of relegation existing right before World Cup if we fail to perform, you can't overstate this event's important, and there's no way I am sitting out.
Can Margott and the Ironmen fight their way back to the top? Mark your calendars for the 4th event of the 2013 PSP season, the PSP West Coast Open, brought to you live from the AB Brown Sports Complex in Riverside, CA, next week, August 16th – 18th, by Paintball Access.
Can Upton 187 Crew and the Ton Tons fight out of the Challengers Division? Will Houston Heat win their second tournament of the year? Can Dynasty make it to the finals 4 events in row? Find out the answers as the best paintball players in the world fight it out at the PSP West Coast Open!

You Might Also Like: