The Dirty- Penalty Stats 
"Stay out of the box!", a statement echoed by players and coaches alike, has become a mandate, but one that is rarely kept. The three bright shinning lights in the league this season are Marcello Margott (143 points played), Nicky Cuba (136 points played), and Steven Pitts (129 points played), the only starters who haven't been penalized so far this season. Honorable mention goes to Sergey Solnyshkov who has played 170 points and only received one penalty, though it was a major.
As much as coaches, commentators, and experienced players ride everyone to play clean and stay out of the box, penalties are an unavoidable part of the game. If you are playing towards the upper end of your redline, you are going to get a few penalties here and there.
The penalties will come, that you can be sure of.  However, if they come at the wrong moment, or your team doesn't have the ability to play down bodies, they will kill your team's chances and destroy your Overall Player Ranking; you get ten points added to your total if you receive no penalties, but the more you get, the more is taken from your Overall Player Ranking.
Here are the three players leading the pack and making the refs earn their money.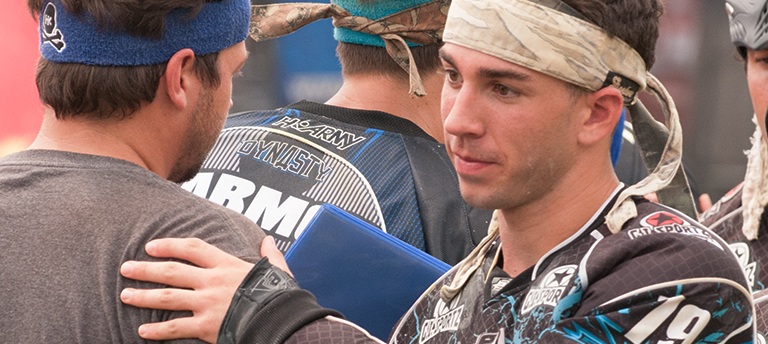 Unfortunately for the talented rookie Demtri Ninios, his performance at the West Coast Open will always have the red stain of 3 major penalties. It was an bad turn of events, not only because Ninios had shown so much promise at the first three tournaments, where he only drew 1 minor penalty, but because his team, San Antonio X-factor, has had so many issues with staying out of the box this season. In fact, X-factor had just cut Zack Wake for getting too many penalties right before the event. But it's most likely just a random occurrence and not a trend, at least that's what we're hoping, because Ninios is one of the most divisionally seasoned and talented rookies we've seen come into the X-Factor program and he could really help them in their quest to get back to the top of the game.
Another rookie who had problems with penalties at the West Coast Open was Nate Schroeder of the Los Angeles Ironmen. It was the first event for Schroeder, and maybe you can chalk it up to first event jitters. His two majors came in only 16 points played, but he is highly touted by the leadership of the team so even though the penalties hurt, it probably won't affect his playing time in the future, unless this becomes a habit. The Ironmen have switched their roster around quite a bit in the past year, and they need Schroeder to start playing well and doing damage on the D-side if they want to have a chance to become a dominant team again.
Though he came in 5th worst in the penalty rating for the event, with two majors and two minors in 36 points played, Justin Cornell is leading the pack for the year with nine total penalties—five minors and four majors. Cornell, as an aggressive machine for Edmonton Impact, is always in tight spots and pushing forward, looking to take ground, get kills, and run people down. He's paying for that aggression this season as the refs are honing in on him. Cornell is an amazing player but the penalties are killing his Overall Player Ranking and hurting Impact's chance to win events. They took second to Tampa Bay Damage at the West Coast Open and are one of the favorites to win the World Cup for the first time.
The Angel award goes to the three players who played over 40 points for their teams at the event and didn't get any penalties at all. Mikhail "Mishka" Knyazev, Chad Busiere, and Pavel Lukashuk. All of these players are in treacherous situations and are running people down, risking those close minors sometimes thrown when a bunker move takes place, but still were able to do their jobs without any ref intervention. There were 13 other players who played over 30 points with no penalties.
Check out the rest of the Penalty Stats here, to see where your favorite players rank.
Mark your calendars for the biggest tournament in the world, the 2013 PSP World Cup, which takes place at the Fantasy of Flight, in Orlando, Florida. Go to pspevents.com to sign up for the event. The best teams in the world will be fighting across multiple divisions of competition to determine who's the best. Paintball Access will be bringing all the action live, October 16th-20th. Don't miss it!
Make sure to like Paintball Access on Facebook, and follow us on Instagram and Twitter. Let all your friends and compatriots know about what we're doing to further the sport!
You Might Also Like: