Complete 2013 PSP Season Stats Are Now Live
Oliver Lang Wins the Top Gun Title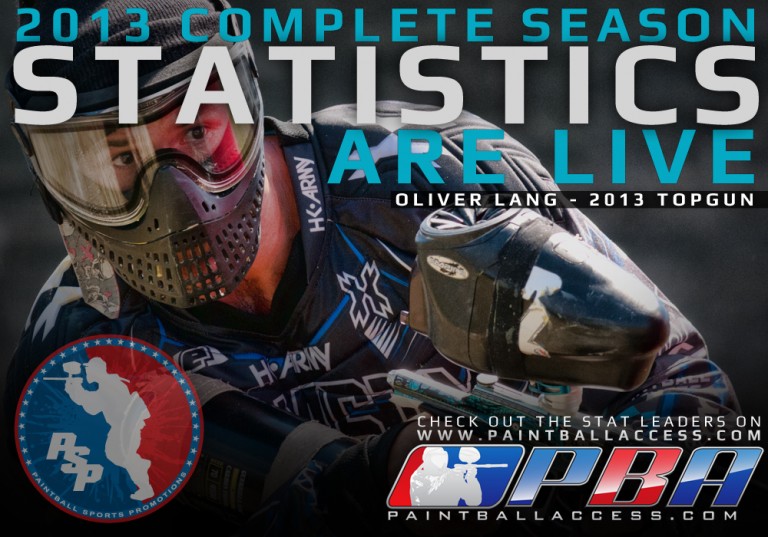 The 2013 PSP season statistics have been released by Paintball Access. All year long the best players in the world have been jockeying back and forth, fighting as hard as they could, as PBA was counting all the kills and tracking their performances. In an amazing display of paintball skill over the entire season, Dynasty's Oliver Lang won the Top Gun title, beating out a strong field at the last event. Even though some critics thought his motivation to continue to be a top player had been lacking in the recent past, the Top Gun title silences those voices. Lang has long been considered the best player in the game, and this Top Gun title only serves to confirm and cement his legend. It was a close fight but his ability to consistently get kills, and help his team win by breaking open points, was the difference over the 5 PSP events of the 2013 season.
Heading into the event the Los Angeles Ironmen's Marcello Margott was leading the pack, and even though he had a strong showing, with the Ironmen looking better than they had all season, a few crucial penalties proved to be the difference. This is the second year in a row where Margott lost the Top Gun title at the last event of the season, and he ended up finishing 5th overall.
Lang's performance, as well as the solid play from the entire team at almost every event, combined with excellent coaching from Rusty Glaze, was the deciding factor in Dynasty taking the Overall PSP Series title, even though their last two events they weren't able to make it past the prelims. They won the first two events, and took second in Chicago, which gave them enough Series Points to earn them the top spot overall.
Stay tuned to PBA in the coming weeks and months, as they will have all the offseason roster madness, and news coming as the teams makes moves to strengthen their rosters, as well as interviews with all the Divisional winners, and more, as we prepare for the 2014 season.
Check out all the Stats Leaders across six different measure of paintball skill on Paintballaccess.com! 
You Might Also Like: