Archie Montemayor played some outstanding paintball at the PSP Dallas Open. For people following his career for the past ten years, this isn't a huge surprise. Montemayor has long been considered one of the best players in the world, and now he's putting up the stats to prove it. His team, San Antonio X-Factor lost in the semi-finals to Omaha Vicious in Dallas, but they almost came back to win the game after going down 6-1. PBA checks in with Archie to get his thoughts on being the #1 ranked player heading into the Mid-Atlantic Open, which is one month away, May 2nd-4th. X-Factor won the World Cup last year, and even though they couldn't match that performance in Dallas, they will still be a favorite at the PSP's next event.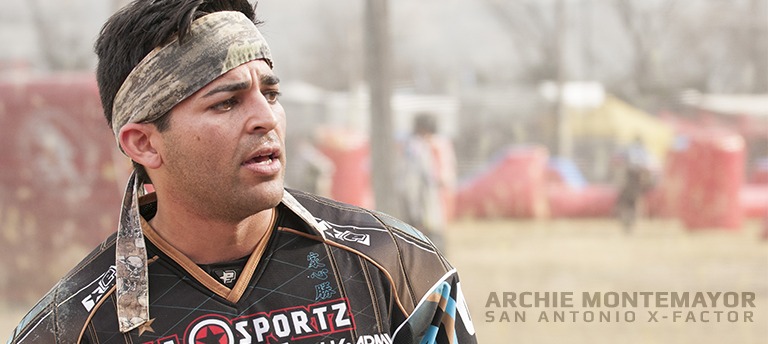 Congrats on being the top rated player from the first event. You've long been considered one of the best players ever from the great state of Texas, and one of the most respected players in the league, but this is the first time you've sat at the top of the Overall Player Ranking. You were destroying people out there, how do you feel about your performance in Dallas?
Thanks Matty, obviously to be ranked amongst the best is quite an accomplishment given how many great players there are in the league. I felt like I had a pretty good tournament but there's always more you can do.
X-Factor had a bunch of come-from-behind-victories at this event. What is the secret to maintaining your composure when you're in those situations? 
No matter what the score reads, the game is not over until it is over. Taking each match one point at a time is invaluable in those situations. We've reeled off 6 or 7 points in a row against really good teams before so there isn't any reason to get down when we are losing by a few points.
You guys lost to Vicious in the semi-finals, where you guys almost had another awesome come back, do you feel you took them too lightly?
That's easy to say about a team like Vicious but I don't really feel like we did. We did our homework, we had a good idea of what they were going to do that Sunday. We just didn't play our best and they did. I don't think they are a better team than us but they had our number that day.
Your team is virtually the same as it has been for the past few years, hell, since the beginning of the team. But you guys look reborn the past few events. What has been the difference? 
Our mental approach. We are playing one point at a time and with complete confidence.  I've always been super confident in my own abilities and I feel like now we are all super confident in our whole team's abilities on the field. It's really paid off for us.
How important is the mental aspect of your game? 
I really feel like paintball is mostly a mental game. Sure, there are physical aspects to the game. But the separation at the top is mostly decision making. Decisions to pick certain gun battles, move at certain times, even shooting certain parts of an opponents bunker to manipulate the way he plays it. I'm just trying to make decisions that will give me a slight edge, and hopefully over the course of a match that slight edge will help my team win.
How do you get mentally ready to play? 
Probably a lot different than most guys. Normally I'm goofing around during our warm-up but besides that just really refreshing my mind about tendencies and patterns the other team might present. Outside of our warm up I'm pretty quiet and usually at some point I will be looking at breakout sheets of our opponent's previous games. Followed up by a nervous trip to the restroom right before (many times inside the 5 minute clock before) our match.
(Laughs) Yeah, I totally understand that. That was a tradition for me too. This field layout was pretty crazy, how did you like the field? It seemed to suit your style of play. 
I liked half of the field. The snake side was a little too random for my taste. You almost never got in a gun battle on that side of the field. The D-side was much more traditional and a gun fighting side of the field. I thought it was a fun side to play.
It's been a long road back to the top of the game for X-Factor, and though you guys took 3rd, your team is a favorite to win events this season. Any lessons you've learned that you think would help other players stuck in rut or not achieving the goals they wish they could?
As for players stuck in a rut, watch the players you want to play like. Analyze their games as much as possible and try to figure out what they're thinking during points and what they saw that opened up a game for them. You can learn so much from just watching games with a purpose. Asking "why" things happen is so important. As for achieving goals, if they were easy, it wouldn't be worth having. If you want something bad enough, fight your ass off for it until you "Will" it to happen. It might take a while, but you will learn so much about yourself and others in the process. I promise it will be worth it.
Mark your calendars for the next PSP event a little over a month away! The PSP Mid-Atlantic Open is going down May 2nd – 4th. All the action will be brought to you live by Paintball Access! Don't miss it! 
You Might Also Like: