Chris Sosine climbed up the Divisional ranks in the shadow of the legendary Chicago Aftershock. He worked his way up to play with Aftershock before leaving for Infamous. Since last year he's been back on 'Shock, and is currently ranked 9th overall in the PBA Top Gun Rating. Heading into the PSP Chicago Open, which takes place June 19th – 22nd, Aftershock is a dark horse favorite, taking 3rd at the last event. They haven't looked this good since 2010 when they took 2nd at the PSP World Cup. PBA checks in with Sosine to talk about his team, his history, and to see what Shock's highest ranked player thinks about the current state of the team.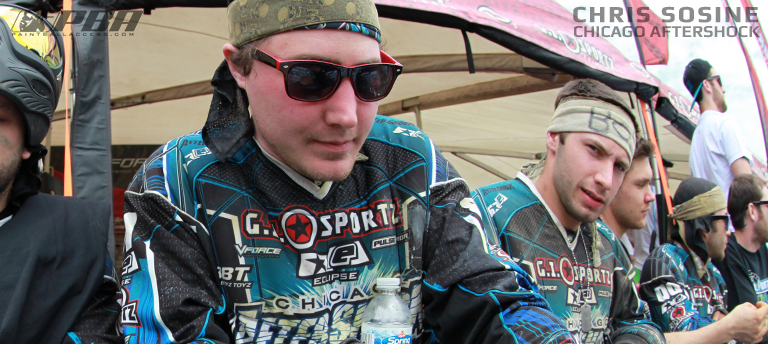 Aftershock finally made the semi finals this past event, and everyone wants to see how well you guys are going to do in the PSP Chicago Open, which is only a few weeks away. What is the vibe on the team right now, how are you feeling about your chances at the next event?
Well, the vibe on the team is great, as always. Everyone is pumped for Chicago. I feel we have just as good of a shot at winning as all the other teams. The competition level in the PSP has become extremely close and anyone can win on any given day.
Talk to me about the last event, PSP MAO. You ended up losing in the semi-finals to Impact, but you guys impressed a lot of fans and players. How did you feel the team performed at that event?
I felt our team adapted well to the field layout. It was a very slow playing field and we are more known for our aggressive play. I was very happy with the way everyone on the team played, but on the other hand, I also was disappointed that we didn't make it to the finals. I feel if we would have made a few less mistakes against Impact we would have been able to tie the game up and bring it into overtime.
You came over from Infamous last season, but you cut your teeth in the pro game around the Aftershock organization, fans might not know where you came up from and how you got to your current position. How did you come to this stage in your pro paintball career, and what was your motivation to come back to Aftershock?
I grew up playing paintball at the Badlands (Aftershock's home field) every weekend. My first paintball team was called Surge. Surge consisted of myself, my brother, Nick Slowiak, my best friend Mikey Morley, and my dad (better known as Randal). We came up pretty fast in the local tournament ranks. After a year we merged with a team called Voltage, which I ended up playing with in national tournaments.
After a successful year in 2006 most of the team went to play with Avalanche for the 2007 and 2008 seasons. In 2009 Drew Templeton and I went to play for Aftershock. After three years with little success we managed to win the NPPL Las Vegas. Even though it felt great to finally win a pro tournament with 'Shock, Drew Templeton, Zack Patient and I thought we would be better off rejoining our former teammates Brad McCurley and Damian Ryan on Infamous.
That tenure started off great for me but after two events I got very little play time, but I toughed it out for the rest of the season, and most of the next one. Aftershock's coach, Mike Bruno, never gave up on me from the day I left until now. So, wanting to get back on the field, and be part of something again, I knew what I needed to do. That's when I called up Bruno and told him I was ready to come back. Since I came back to 'Shock it has been nothing but positive forward movement. It's great making new friends, and joining old ones, back on 'Shock. I couldn't be happier!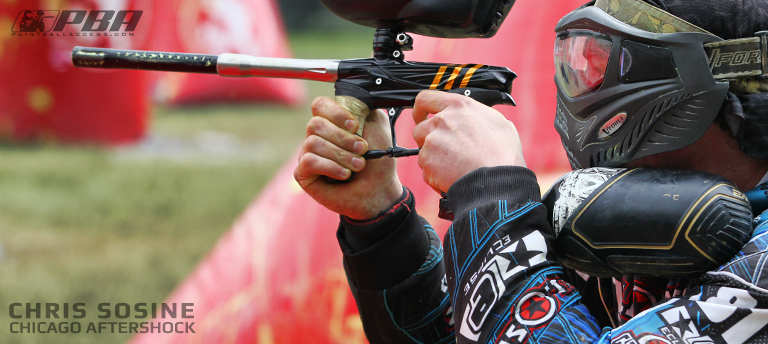 How does Aftershock mentally approach a tournament?
We just try to get as many reps on the field layout as we can so we know what to do in our heads when we get there. I would say we keep a fun and positive mental state at all times. That seems to work well for us.
When you came back to 'Shock most people felt you would fit in nicely on the field with their new crew because they needed someone with your skills. How do you feel about your on-field roll?
I just try to shoot someone on the break and then give my front players the support they need to get their jobs done, and then close out the points. I can't do what I do alone. I have some of the best players in the world around me and if it wasn't for them, we wouldn't be where we are today. All in all, I love my role on the team. I'm glad I could help out and be a part of Aftershock again.
The team has been looking good; the squad has been evolving its skills in the areas needed to compete at the highest levels of the game. You guys haven't won an event, or made it to the finals yet, but everyone in the league is now looking at your team in a different light; no one is sleeping on 'Shock anymore. How did you guys get here?
The team has been rebuilding ever since I left. If it wasn't for all the hard work they put in while I was on Infamous, 'Shock wouldn't have made it to where we are today. I think a lot of Shock's success comes from the great team morale and all the positive attitudes on the squad. Our raw talent is finally getting the experience they need for us to win at a high level. I also have to give Mikey Bruno a lot of the credit. He has stuck with his team through thick and thin and believes in everyone on the roster.
How are you looking at your roll on and off the field moving forward?
On the field I'm hoping to continue to play well, but I always want to play better. I need to start training harder at the gym. Chicago is going to be hot, as always. Off the field is easy, I have the best teammates; they are easy to get along with. They all do a great job of bringing each other up and getting the best out of everyone, so I'm just going to keep doing what I've been doing and staying positive and if someone starts to lose it I'll just do my best to calm them down.
Tune into to Paintball Access June 19th – 20th to watch the best players in the world fight for the PSP Chicago Open title! Can Aftershock take their first PSP win in over ten years? Or will Dynasty continue their winning ways? Can Infamous and Art Chaos fight their way out of the Challengers Division? The Chicago Open is one of the hardest tournaments in the world to win, tune in to Paintballaccess.com to find out who will take the title! 
You Might Also Like: