Max Traylor is currently sitting 8th overall in the Top Gun rankings after two events. His team, Upton 187 Crew was able to take down Los Angeles Infamous in their relegation match Sunday morning during the PSP Mid Atlantic Open, and preserve their spot in the Champions Division. PBA talks to Traylor about his team's performance at the last event and how they look moving towards the PSP Chicago Open, a little over a month away.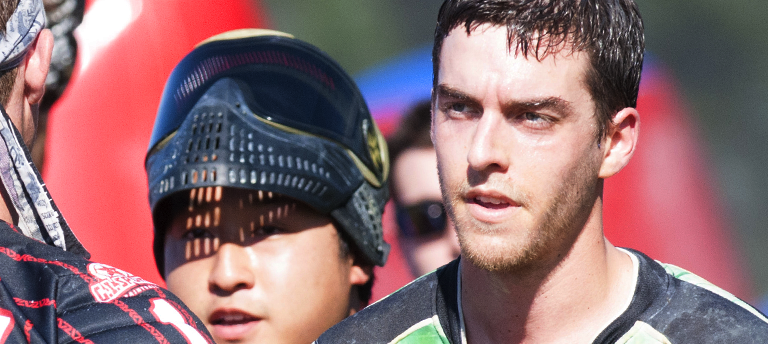 Your team just got over a huge hump in your young pro paintball careers at MAO: you beat Los Angeles Infamous, the team who won the last event, in a relegation game to stay in the Champions League. What was it like winning that game to earn the right to stay in the Champs Division?
We knew this was the biggest win of all our careers. To experience that moment as a team was the ultimate reward for us. Overall we didn't feel we finished as strongly as we could have in MAO, but we understand that forward progress in this league is something to be proud of.
This was one of the toughest tournaments I've seen. The lower ranked teams who are bouncing back and forth from Champs and Challengers have improved their skills and now have a chance to prevail in the PSP. Do you agree and how do you feel about the team's performance at MAO?
I agree that the "bouncer" teams are starting to give everyone a run for their money. But really this was a breakthrough event for Aftershock, as they made the semi-finals. This field in particular was slow and methodical. It demanded no mistakes and a level of discipline that we have not seen in years. For us we knew this field was going to be a challenge coming into MAO. Teams have typically beaten us by playing tighter and more consistent, which comes with a lot of experience playing at the top level. To come out and play 4 close matches against the best teams in the world on the most difficult field the league has seen in years was a confidence booster that this team needed desperately.
You guys came out the gate and beat World Champs X-Factor, 5-2. Then you get blown out by Impact, 1-6, who went on to take second. Talk to me about that first day in Maryland. How was it playing against Nick Leival, your old captain (who left 187 in the offseason)?
The X-Factor win was a huge confidence booster. I don't think anyone really knew how the team would match up against the World Cup champs without Nick. Not that we weren't confident, but he has always been the leader, we knew the long grinding games would test our ability to function as a team and lead ourselves. 
Losing to Nick in the Impact game didn't mean much to us, we saw it as a learning experience. They beat us by a good margin but we figured out what we were doing wrong and were able to fix it Saturday (even though we lost) and Sunday.
On the second day you lost two games, but they were close: 3-4 against Damage, and 4-5 against Vicious. How did you feel the team played in those games?
We were obviously disappointed in the outcome, but overall we knew we played very well. Both losses came down to one mistake, which for us is a lot better than getting blown out for making 2 or 3 mistakes. We knew after prelims that we could beat anyone on that field and that was a major factor on Sunday.
You guys have moved back and forth between Champs and Challengers Divisions over the past season. The team looks better than it ever has, even though you went 1-3 in the prelims. What has been the crucial factor in 187's improvement?
Experience. We have been going through a period of losing players and replacing them with fresh talent for a couple years now. Sometimes it just takes a while to build a winning team. I think we hit a wall last year losing BJ and it has taken us another set of tournaments to find a way to play together consistently.
You're now 187's highest ranked player; you're sitting 8th overall. But though we've been watching you play for awhile now, and seen the level of talent and skill you have, to me the story of 187's improvement is, across the board, the team is getting better and you now have a solid crew of professional level players. Who has been impressing you the most on your team? And what is the mindset behind this level of improvement?
Greg has progressed the most out of everyone over the years. He is becoming a leader on the team through pure dedication to the sport. He struggled in MAO but he will play consistent for the rest of the season. Dan Zaleski steps up big every game, regardless of where he plays on the field. To be honest everyone is playing better than they have ever played. I think that we finally have the depth of talented guys to push everyone to play better. There is finally competition for spots, which makes people work harder and helps us actually get better when we need to practice each other (because we don't get many opportunities to practice other big teams).
Any words of advice for younger players who want to emulate the 187 Crew story with their teammates?  
If you really want to progress in this sport, you need to play people that are better than you.
You Might Also Like: