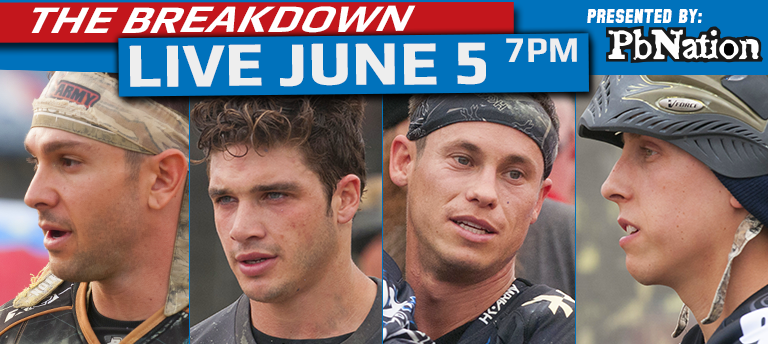 CLICK HERE TO SIGN UP AND SAVE
Paintball Access and PbNation have teamed up to save you money on the upcoming PSP Chicago Open broadcast! Pre-pay for the Webcast this Thursday and Friday, save $5, and watch an hour-long live episode of The Breakdown!
This Thursday, June 5th, 7:00 pst, PBA will be Broadcasting a live episode of the Breakdown, with special guests Ryan Greenspan from San Diego Dynasty, Scott Kemp from San Antonio X-Factor, Raney Stanczak from Edmonton Impact, and the Ironmen's Marcello Margott. Each of the guests will sit down with hosts Matty Marshall and Todd Martinez to discuss their team's season so far, and go over plays they'll be running in practice during the next few weeks to learn the field.
With the chaotic nature of this unconventional layout, you're not going to want to miss the pro breakdown of the field and plays and drills they are going to reveal. The hosts and guests will also be going over their Fantasy Paintball picks and discussing a drill they think will get you ready for the PSP Chicago Open.
This discount will be ending Friday June 6 at 6:00pm Pacific. The PSP Chicago Open layout looks to be fast and aggressive, and this event is historically one of the hardest to win, so make sure to set your calendars for June 20th -22nd when the best teams in the world throw down at CPX Sports Park to see who will take the victory!
CLICK HERE TO SIGN UP AND SAVE
You Might Also Like: