After a four-year wait Edmonton Impact is again sitting at the top of the paintball world after their victory at the PSP Chicago Open. They defeated a resurgent Houston Heat 7-2 to take the victory during a tough event besieged with rain. PBA touches base with Chicago MVP Zach Yachimec to talk about his amazing performance, his history in the game, and about his team's long journey back to the podium.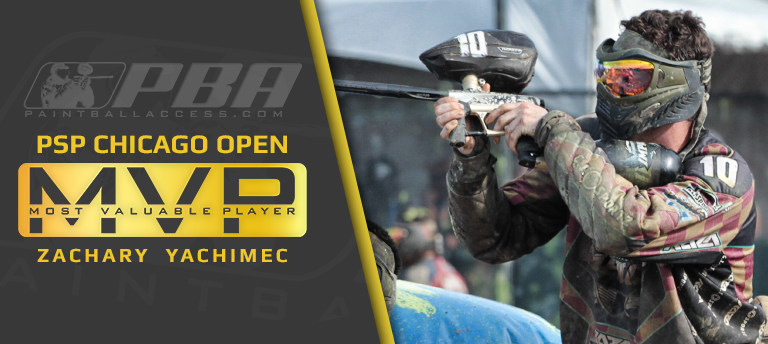 It's been 4 years since Impact won a PSP event; your first and last win, until this win at the Chicago Open. How are you feeling coming off this win and your MVP performance?
It's been too long! The feeling of winning the PSP Chicago is incredible, especially with the group of the guys that we have on the roster this year. To win an event with four new players all pulling their weight is a really great feeling. Everyone pitched in and did their jobs and nothing more. There are no heroes on Impact. It was also a bit of a relief in a way. Not only has it been four long years since our last win but we have countless seconds, thirds, and fourths since our last win in Phoenix. Being so close for so long can be taxing on a team or individual so it was a really nice feeling to be able to celebrate the win again.
With regards to the MVP, I haven't really put a whole lot of thought into it. It is certainly an honor to named the MVP! I felt like I was playing really strong this event, we were shooting people of the break and closing games really well as a team. As great as it is to be named MVP, I owe it to my teammates for supporting me on and off the field. Paintball is extremely team oriented and I wouldn't have been able to do it without them!
Give me a brief history of the Impact program. How hard has it been to put together a winning paintball team from the great white north? Canada has always had a few amazing players who've come south and done well in big programs, but you guys started your own.
Initially we were looking to build a pro squad made entirely of Canadian players. It was always very important to us to have local players and teams available for practice. This held true into 2007 when we earned our pro spot in the NPPL. However, after 2008 we lost Anthony Fiazzia who was one of our stronger players at the time. Following Anthony's departure, we lost a few more players in 2009, and in 2010 we picked up Ryan Moorhead and Dave Bains. At this time we had to make some changes to how we developed the roster and that meant finding new blood outside of the Canadian market. The hardest part nowadays is getting in valuable practice time against strong teams. We are limited to two weekends before events due to travel and accommodation costs as opposed to having the whole team based in Edmonton all practicing together.
Another interesting thing that many people probably don't know is that in 2007, Josh Ouimet and myself played for Dynasty for the last four PSP events. Since Impact was playing in the open division in 2007, it made sense for the two of us to move up to the pro division with Dynasty. This was a huge opportunity for the both of us not only in terms of moving up to a higher division but also for the experience of playing on such a winning team. We ended up doing really well that year (fourth, third, third, and second respectively in each event) and while not winning the season or an event it definitely helped shape the player that I am today.
How challenging was this layout for you as a player? And what was it like to deal with the weather conditions?
I think the MAO layout fit my play style well. I really enjoyed playing this layout for a number of reasons. There were lots of lanes to shoot off the break, which makes it interesting for a secondary snake player like myself. We would change our lanes and essentially adjust our game plans for each point literally seconds before the match started based on how the other team lined up. For example, if they ran three players on the snake side, both Justin Rabackoff and I would shoot for the snake side runner. This made the layout tough but exciting to play because we didn't really know what we were doing until the last moment.
The weather and turf conditions were not favorable to say the least. With the conditions being as muddy and as wet as they were, there is really nothing a player can do to change the situation. Apart from having to fully tear apart my markers and my hoppers to remove the dirt and mud between matches, there isn't a whole lot other than that a person can do. The worst part of it all is the stickiness of the field. Coming off after a long point in the mud it feels like you're walking in quicksand and it really drains you when your pants weigh twice as much. I know after our close 7-5 match against Tampa, (Coach) Bart was giving us a hard time for slacking when walking off the field after the points but we were literally stuck in the mud.
Define the magic of Impact this year? You guys went the unconventional route of picking up some younger talented guys, after losing veterans who had won before. Talk me through the offseason, and what you were thinking leading into this year.  
As you just said, "younger talented guys". You should see these guys. Daniel Park, Nick Levial, Ryan Martin, and Raney. They have so much heart. These guys have really been a spark for the Impact vets. One of the biggest changes in prior years was the level of cooperation between the teammates, the captain, and the coach. After half a season now I can really feel the trust growing steadily between the players and the coach. You need a high degree of trust in one another to have your head in the game and to be able to perform your best on the field.
As for the off-season, losing Ryan Moorhead, Tim Montressor, and Greg Siewers came as quite a shock. I love those guys to death. Ryan had been a part of the team for four years and Tim for two, so naturally we had a close relationship. We were so close last year with those guys and it would have been really nice to win with them as well but it just wasn't in the cards. As much as I love those guys it was important that we move on and find new players as early as possible. The pool of potential pro players on the market at the end of any given year isn't typically huge, especially when each team is looking to fill particular roles with particular personalities. Looking back to last year, I think we knew that we wanted players who were young enough to follow the lead and direction of our coach and captain without question and hungry enough with the will to win. Danny, Nick, Ryan, and Raney all fit the bill perfectly.
A bunch of guys on the team came together to get this win, but you've personally been playing very solid. You don't make many mistakes, you were crushing guys off the break, you're a master gunfighter, and your timing is on point. Dave Bains, who's played with the "who's who" of paintball champions and stars over the past 11 years, says you are the most consistent player he's ever played with, along with Dynasty's Ryan Greenspan. You can't get much better praise than that. How do you feel about your performance and what is going through your mind when you play the game?
Coming from Dave especially, that is a huge compliment. In terms of my performance, I really try to be as consistent as possible, especially as a back/second fill player. My front player should be the one taking the risk to get the majority of the kills on the snake side. If I am getting shot before him, then it doesn't leave my team with a strong chance at winning down the snake side. That being said, the first thing I think of when playing is getting control of the field and letting my front player know what is going on. The first 30 seconds of a match are crucial. Everyone is excited and it can lead to players getting shot early. I'm always thinking of controlling the field and controlling the pace of play.
The role that you played so well, the fickle "2" role, the second attacker, is the hardest role to play well in the game, because it requires you to be very versatile, to be able to play the front spot, the back spot, and your own role depending on what happens during the point, and to carry communication cross field. That's a tall order. How do you look at your on-field roll in general, and what advice do you have for guys coming up who play that roll?
I think I have the best role on the field because I get to do everyone's job, from shooting off the break to getting into the snake and closing games. It's interesting because in the 7-man days, I was solely a back snake player. So most games were spent in the snake corner. It wasn't always that exciting doing the same job over and over again. With the advent of X-ball, it demands so much more from each player. I can no longer be just a back snake player and thus my role has shifted, requiring me to be more aggressive. It has certainly made the game more exciting for myself.
My advice would be to remember what your job is as the second attacker. Keeping things simple is very important as well. A successful second attacker will do three things really well. They will help their front player move forward, communicate calls to the front and mid player, and stay alive to close out points. If you can perform well at all three of those jobs you will be successful in that position. Easier said than done. Lastly, remember to communicate with your front player off the field as well. You really need to understand what is going through their head to find out what they need to make their jobs easier.
What other teams and players are impressing you now? And how crazy is it that Infamous, X-Factor and Aftershock are all in the challengers division for the PSP West Coast Open (August 8th -10th), which means one of them will not be playing in the Champion Division at World Cup.  
I have been really impressed with the Ironmen's Alex Goldman as of late. Jrab and I couldn't hit him while he was running and shooting to the snake off the break when they beat us in the prelims. Vicious has also impressed me this year with their second place finish at the first event in Dallas.
It's shocking to see those teams in the Challengers Division period. Those are the teams you would expect to see in the finals most events. I feel for Infamous the most since they won Dallas this year, must be like a roller coaster for those guys, with all the highs and lows. What this says is that there are more than 10 teams who are hungry for a top level pro spot, which is great to see. The level of competition is on the rise.
I've been watching you play for a long time, and each year you keep getting better, do you feel you've peaked or are there parts of your game you think can improve? 
I am just getting started! I can certainly improve my play in the snake and during the closing stages of games. To be a really great snake player, you really need your wits about you at all times. So, I can definitely improve my overall snake play. It's really easy to start playing sloppy when closing a point out. It's terrible for the team to give up bodies like that. Theoretically, a team should never lose a 5 on 2, but it does happen.
The PSP West Coast Open is one month away, Aug 8th-10th. Can Impact win two events in a row? Will Houston Heat finally find their winning form this season? 3 top teams are in the Challengers Division-Afteshock. Infamous, and X-Factor- and they need to finish in the top 2 in order to make it back to the Champions Division for World Cup, so they won't all be in the top division for Cup. Tune in to paintballaccess.com and watch the best teams in the world battle for the right to play in the Champions Division at the PSP World Cup!
You Might Also Like: