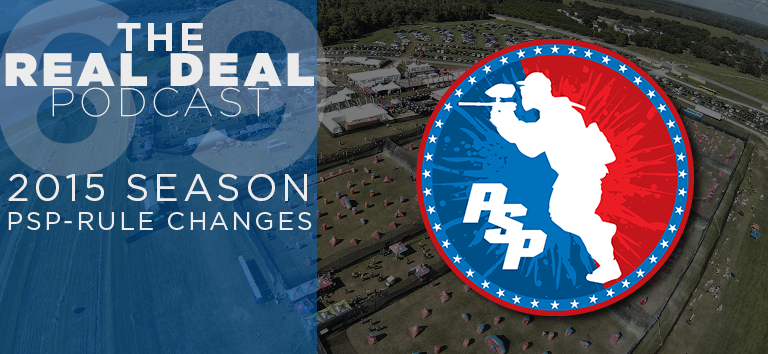 LISTEN VIA ITUNES SUBSCRIBE RSS DOWNLOAD
DESCRIPTION:
Semi-auto, no coaching, and pro layouts released at the event: PBA hosts Matty Marshall and Todd Martinez discuss the big new PSP rule changes for 2015, and how they will bring more skill to the game at its highest level.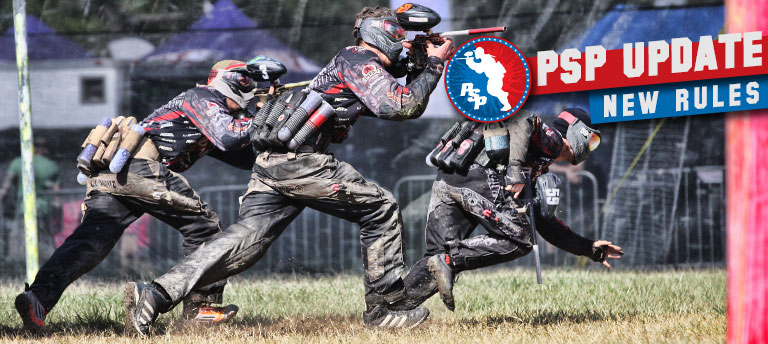 Lawrenceville, GA – PSP (www.pspevents.com) is pleased to announce several changes for the 2015 season designed to allow players competing on the Pro Champions and Pro Challengers fields to showcase the individual skills developed over several years of training. In addition to highlighting each player's talents in each individual skill, Pro players' performance will also depend on their ability to execute several skills simultaneously. These changes, limited to the Pro Champions and Challengers fields, include elimination of spectator communication to players, field layouts released on-site at each event, and using guns in semi-auto mode. The combination will highlight each player's and team's creativity, understanding of the game, and gun fighting skills, allowing us to see who are the best in the world.
At the request of numerous Pro players and teams, on the Pro Champions and Pro Challengers fields only, communication between spectators and players will be prohibited on both sides of the field. This change applies to all games played on each field, including divisional finals games.
While layout for the divisional fields will continue to be released in advance, the field layout for the Pro Champion and Challenger fields will no longer be released prior to the event. The two fields will first be set up Thursday morning and available for Pro Champions and Challengers teams to walk starting at 11 AM Thursday. Following each event, the Pro field layout will then become the Divisional field layout for the next event. The divisional field layout for the 1st event of the season will be released approximately three weeks before the first event. Divisional teams playing Finals on Sunday on the Pro Champions field will be given an opportunity to walk the field before play. PSP will continue to use the same set of bunkers and type of layouts you come to know and enjoy.
Players on Pro Champions and Challengers teams will be shooting semi-auto guns for 2015. To ensure guns are operating in the correct mode, all Pro Champions and Challengers players will be required to use manufacturer-stock boards with manufacturer-provided semi-auto-only software. Multiple enforcement mechanisms will be in place to ensure players adhere to the semi-auto standard. Semi auto is classified as 1 full pull and release of a trigger with 1 paintball fired.
PSP believes these changes will provide Pro players with exciting new opportunities to exhibit the skills that make them the best players in the world while simultaneously providing fans with more exciting contests between the best teams in the game.
Outside the Pro Champions and Challengers divisions, the electronic rate of fire for RaceTo-5, RaceTo-4, and RaceTo-2 divisions will be 10.2 bps, which includes Divisional Finals games on Sunday on the Pro Champions field. While PSP is always striving to identify improvements for our customers, there are currently no plans to bring the semi-auto firing mode or change spectator participation rules for these divisions for the 2016 season.
PSP expects to announce the 2015 Event Calendar released by early January, including new and traditional locations.
About Paintball Sports Promotions
The PSP is the #1 professional paintball league, with over 150 years of combined experience. PSP's understanding and experience in the Industry is unparalleled. More information on the company's upcoming events, rankings, webcast and more is available at: www.pspevents.com.
Contact
Paintball Sports Promotions
248 E Crogan St, Lawrenceville GA 30052
Damien THAREAU
Event Manager
843-773-1054
damien@pspevents.com
You Might Also Like: