Travis Lemanski is the leader/coach/owner of Los Angeles Infamous, one of the longest running and successful pro teams in the paintball. They had a crazy, up and down year, which culminated in a victory against San Diego Dynasty in the PSP Challengers Division finals at World Cup. If you haven't seen the game yet, you're missing out. Click here to check it out and watch one of the best paintball games ever played. PBA checks in with Travis to talk about his team, their successes, and their failures this season.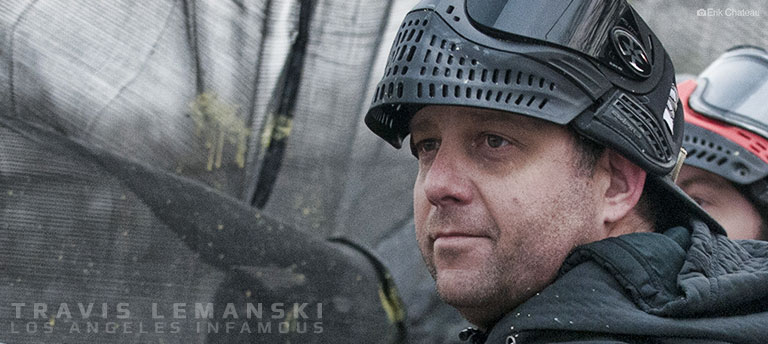 So you and the boys had a very interesting year, to say the least. You won the first PSP Champions Division event in Dallas, then get knocked down into the Challengers Division. Before we get into that, let's start with any moves you are thinking of making for next year, because lots of people want to know what Infamous' plans are for 2015, then I want to get into the 2014 season. Any players you are looking at? Any holes you feel you need to fill?  
Moves… We are always making moves. We have a lot of work to do and we have players that we like but we haven't made any moves just yet.
Well, it's not like you have to make any moves. You have a pretty stacked roster, and you have a few players who are already big stars, and some younger guys who are still getting better. So it's not like you need to pick any one up, and even though you didn't have the best year, you did win a tournament in the Champions Division and you beat Dynasty to win the Challengers Division at World Cup, in the probably the best game I've ever seen. One of the other questions people ask is how long Infamous will continue on in its current incarnation. You run the team, it's your baby, but you have three other actual babies, a job, a wife and you've been doing this for a looong time now. How long can you, or do you want to, keep this going? And is there anyone you could see who you would want to hand the reigns to one day?  
I wouldn't say our roster is any more or any less stacked than other pro teams. We rebuilt the team a few years ago with guys who were lesser known, that you and I nicknamed the "Blue Collar Ballers" and turned them into well known pros that are respected in their craft. As for me, we will have to see. I still enjoy it. When I stop enjoying it, I'll be gone. The Infamous spirit is instilled in the team's DNA. There are a few guys on the team that I could hand the reigns to and be content. They just don't know it yet.
What about the guys on the roster? Most of the core guys work for Empire now, which keeps them fed, motivated and in the fold, how but how is vibe on the team as far as longevity is concerned with everyone? Because guys on your team always come up in the offseason conversations.  
Guys on my team always come up in off-season conversations because we are not one of the super rich elite teams that pay salaries to players. We are good enough to beat those teams when we are prepared so it makes us a target for those teams. Since we don't pay players I am sure it has some of our guys also asking questions to see if the grass really is greener on the other side. I touched on it on the last question but Infamous has some unique opportunities enclosed in it. Because of our close-knit ties with Empire we have the ability to offer jobs to players in the paintball industry. This gives those players not only money to live, but also real work experience in an industry they love. This work experience is something they can take with them and use the rest of their lives in their careers, long after they are done with professional paintball.
Let's throw it back to the win at the first event in Dallas, how did it feel to come out the gate and get a win against such a strong field? You guys must have thought this was going to be your year?  
It felt great. I mean, we worked really hard the entire off-season and we were hungry. The prior World Cup left a bad taste in our mouth and we were fired up. Infamous used the term #NOOFFSEASON at Cup a few years ago. What it meant to us was that just because Cup was over we were not done. We were going to work double time. We actually worked overtime all "off season" for that win.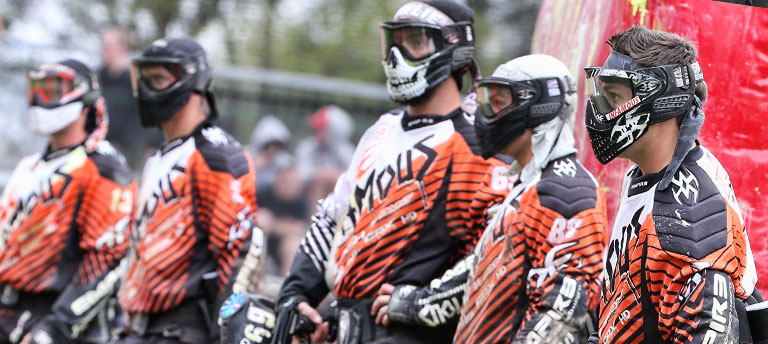 But after that win, you guys lost in a relegation game to Upton 187 cRew at the very next event and got sent down. What did it feel like to go from winning an event to getting relegated and do you guys think you came in too cocky or confident at the second event? If not, what was the issue keeping you guys from playing up to your potential, was it the layout? That definitely was the most conservative layout we've seen in years.
Well, it definitely didn't feel good. One second you are on top of the world and weeks later you are gutted. I won't blame the layout, because I believe as a team you need to adapt to what you are given but at the same time the "slow-play" is not our strength. We just have a hard time turning off that "Go, Go, Go" mentality. PSP Dallas was one of the fastest layouts and the Mid Atlantic Open was probably one of the top 3 slowest I have seen. You have to be good at all of them and take what's given to you, forcing it never works.
Infamous spent the rest of the year down in the Challengers Division, until World Cup when you guys earned your way back up. What was the team talking about during meetings after those tough losses in the Challengers semi-finals mid year?
It was a gut check, we just wanted out, wanted to get back up, but the team held its composure for the most part, there wasn't any pointing fingers. 3 events in the Challengers was enough and we were getting out at Cup. I can't say that starting next year in the Challengers Division would have been a good thing for Infamous.
And that amazing win against SD Dynasty in the finals, which was arguably the best game I've ever seen. What was going through your mind as you picked the one-on-one players?
Well, believe it or not, we had practiced for one-on-ones the entire week, which made it an amazing story in itself. After each day of practice during "World Cup Hell Week" we held 1 v 1 mini tournaments to see who our best one-on-one guys were. Of course, the guys were ultra competitive because it gave them bragging rights and winner got free dinner, and I got to know who my one on one studs are right now. When the Dynasty match went to 1 on 1's, I knew immediately who the guys were that should go in, but the order was a tricky situation. Bobby solved that one for me; he was so fired up after the last point, where he felt he got cheated, he let me know he "wanted it!"
Why do you think your team and Dynasty always have such memorable games? The game you guys played in Dallas this year has well over a million views on Youtube. Another game you guys played in 2013 has hundreds of thousands of views as well.  
The Infamous team was born with epic battles against Dynasty in Tampa 2004. It's in our blood to get it up against those guys. I told Alex Fraige at Cup, once we learned it was going to an Infamous vs. Dynasty final, that I thought it was going to be a HUGE epic battle to finish the event. Turns out it was!
Let's talk about a few of the players on the team. Nicky Cuba, long time pro and World Champ, had knee problems toward the end of the season, will he be returning, or is this the last we've seen of a legend?
You know, Nicky has had some knee issues but I don't know if that will be the end of him. He has recently started a new job and so that may take some time to get up and rolling but 100% Nicky is a part of Infamous as long as he wants to be.
Kevin "Kali" Rudulph ended up as your highest ranked player. He kinda goes under the radar sometimes, even though he's a workhorse. I think he's very consistent. Consistency seems like an issue on your team. Would you say so?
Yeah consistency in paintball is tough in general and Infamous rides those waves sometimes but Kali is a rock. He stays in his own lane and is always in there fighting and is a huge spark plug for ours team's communication. Fans sometimes only see the flashy run-thru guys or the 1st player in snake but it takes guys like Kali to win events.
Zack Wake was the hero of both your wins this season, in Dallas and during that last one-on-one at Cup. He was not always such a clutch player. How much has he changed during his career on the field?
Well, he has been big for us this year and we curbed the penalties somewhat. That can always be better but I think as he is getting older he's maturing in his attitude and that's reflected on the field. He has always been a monster on the field but it's really just about getting his head right.
Jason didn't get a ton of spins this season, but came through huge in the one-on-ones as well. And his brother Corey is monster gunfighter. Looks like the Bornstein bros have been a great addition to the team, do you agree?
Jason got a decent amount of spins this year. He missed a few practices at the end of the year because he was running out of time off from his job. Sometimes that effects which guys run certain plays, depending on what they did in practice. Both of the brothers are great dudes and they just fit in really well with Infamous. I can't say enough good things about the Bornsteins.
How do you look at the future, lots of new teams and new faces are going to come through here real soon? What do you have to say to the next caretakers, motivators, and leaders of the sport as we move into the near future?
I welcome the new teams, without them we have no future. I would tell them that they have to have fun with it. A lot of times guys get so wrapped up in the tournament chaos that they forget why we do this.
You Might Also Like: