X-Factor's Colt Roberts speaks about losing his families house, how paintball links us all, and the power of giving and receiving. You can go to his gofundme page here or type in www.gofundme.com/logfo4 into your browser to help him rebuild.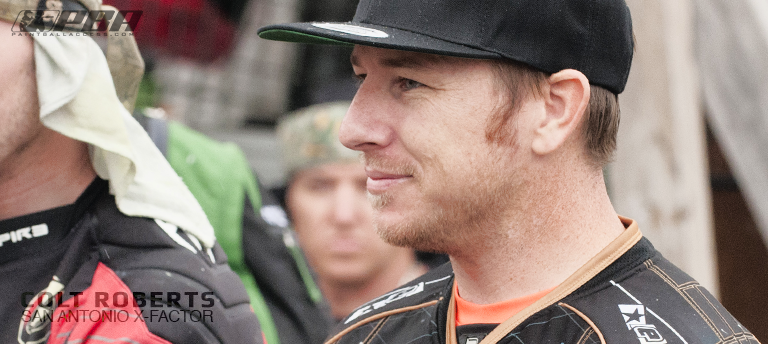 Common Fiber: It's what ties us all together. Race, religion, nationality, creed, political beliefs, career; none of it matters. Not to the select few of us who share a common fiber: Paintball. Definitely the greatest collective of amazing people that I've ever been witness to.
Although I've always known this, only recently have I learned how deep that Common Fiber really transcends. It's the last haven of people whom I know that truly and wholeheartedly take care of their own. It makes me retain faith in the human race. It reminds me that kindness and compassion are still out there and make me understand how lucky I am to be a part of it.
As many of you reading this [probably] already know, my family has recently been affected by a major catastrophe. On Thursday, February 5th 2015, my family home burned down. Inside the home at the time were my parents, animals, and every possession we had accumulated in our entire lives. Antiques, furniture, clothes, trophies, paintball equipment, electronics, pieces of art; everything is gone. It's a surreal feeling to lose everything and it still hasn't fully set in.
For me, a young man of 32 years and a beautiful wife of 28 starting over is tough, but we will rebuild. For my father and mother, a retired veteran of 68 who's had a quintuple bypass, heart stents, and bladder cancer, and a Domestic Goddess Mother of 49ish (well, maybe slightly older but she'd kill me if I gave her age) who has been through four major back surgeries and dedicated her life to raising me and taking care of the household, both living on Social Security from a single income family, well that's very different.
At a time in their lives that they should be sipping mojitos in Tahiti without a care in the world, they are instead trying to pick up the pieces of what's left of their universe.
I have been contacted by literally hundreds of people in the paintball community. Some are long time friends, while others are people who I've never spoken a word to. Yet they all shared a deep concern for what my family was experiencing. To feel the love and presence of so many wonderful people is something that I've never experienced in my life.
I've lived all my days as someone who's always given back to the community. I have always tried to be there for someone to lend a helping hand, whether some encouraging words or an old pair of paintball pants to a kid that didn't have any. That makes me feel so wonderful to help someone. If you've never been truly kind to someone, you don't know what you're missing; it's the greatest feeling in the world.  Now that I'm on the other side of that, I can see receiving kindness is also one of the greatest feelings I've ever had. One of those once in a lifetime experiences where you feel connected on a level that transcends all the trials of life.
I've never been one to take assistance, I've worked for everything I've accomplished in my life and never been handed anything. It's not in my nature to do it any other way. Tons of people have offered their homes, their clothes, their possessions, and their money to me. People who had so little to give, but still wanted to give it to me because of the fire's destruction. So I declined all assistance. There are so many people in the world who need it more than I do.
I felt undeserving yet I learned very quickly as the offers for help poured in, that my opinion of receiving help was wrong. They wanted to help ME because of the Common Fiber, the bond that we all share. To quote Matty Marshall when we were talking about this, "When someone in the village loses their home to a fire, it is the communities responsibility to help them recover".  It's something I've always lived by when I was one of the villagers.  Now that I AM the Villager, it's my time to accept the wonderful gift that this amazing group of people has presented my family.  Because the truth is, we need it. Not so much Desiree and I, but my parents. They have lost so much after a lifetime of giving so much to so many people.  They, unfortunately, were unable to have the proper insurance needed on our house and have lost everything.
Everyone has asked me, "How do you have such a positive attitude while you're going through such a disaster?" To which I respond: There's nothing else to do. Life kicks you down some times, but I am a firm believer everything happens for a reason. This is just another obstacle in life to tackle. The wonderful thing is that my family is safe, my parents made it out alive. We can replace our possessions over time but we can't replace each other. Thank you for those who donated and I love you all. If I can ever return the favor or offer my assistance to anyone, please don't hesitate to reach out to me.
You Might Also Like: