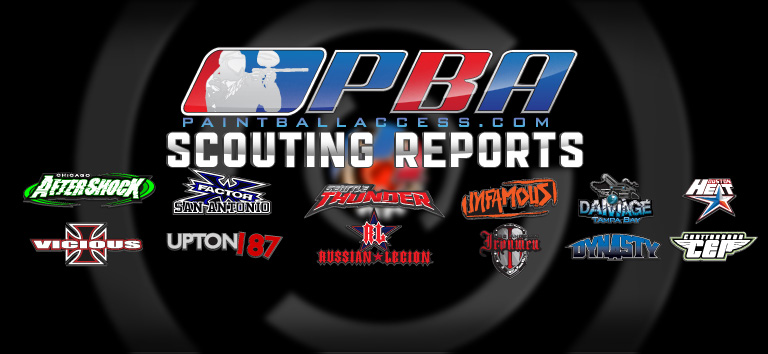 2012 is looking to be the most competitive year in Paintball history; there are many teams in the hunt and looking strong. Because there is so much information to know about these teams in order to fully enjoy the event, PaintballAccess.com is releasing a series of Scouting Report videos and articles to give the fans an update about what's going on with their favorite team, where they stand, and what they need to do on the field in order to prevail.
Paintball Sport Promotions 2012 Mid Atlantic Open is about to go down, August 1oth-12th 2012. Make sure you tune in to the free, live webcast on PaintballAccess.com. The show goes live 8:00am EST, starting off with the monster match up of LA Infamous vs. LA Ironmen.
Be sure to check back for more scouting reports.
---

San Diego Dynasty has struggled this year, getting knocked out of the first two events early. With possibly the most talented team in paintball, they need to find the aggression that served them so well in the first half of 2011, when they dominated, before the boys from Tampa Bay Damage came out swinging and stole the title.
Click to read the full San Diego Dynasty Scouting Report
---

The only professional team representing what has historically been a strong area of the world for competitive paintball, Seattle Thunder is the brainchild of long time Pro player Corey Field (ranked 32nd ). Field, who is also Thunder's highest ranked player, has had quite the season so far, with a particularly amazing performance against a solid San Antonio X-Factor in Galveston, where he was pulling off 3 on 1s. His ability to remain calm under pressure, and down bodies, is a testament to his experience
Click to read the full Seattle Thunder Scouting Report
---
The second longest standing team in the league after the Ironmen, Aftershock is in the process of rebuilding their roster under the guidance of 'Shock legend, and new coach, Mikey Bruno.
Click to read the full Chicago Aftershock Scouting Report
---

Chattanooga CEP, has struggled this year with penalties, and it's been tough for them to get a push going while constantly playing down on bodies. This is their second year in the league and they should know the pace by now. It's a good thing for CEP that they are close, as team, so they should be able to rein in each other if the penalties start getting out of control at Chicago.
Click to read the full Chattanooga CEP Scouting Report
---

San Antonio X-Factor was one heart-breaking penalty away from progressing past the prelims at the last event in Chicago. They lost to the Ironmen in a loser-go-home, winner-move-on match, and got knocked out of the tournament.
Click to read the full San Antonio X-Factor Scouting Report
---

Omaha Vicious is very close to becoming a top-level team. At the last event in Chicago they were finally starting to play with the swagger their talent level deserves. Houston Heat, who won the Phoenix Open, beat them, but only by two points, and they lost in sudden death overtime to the team who went on to take second place, Moscow Red Legion.
Click to read the full Omaha Vicious Scouting Report
---

Upton 187 crew isn't going to surprise anyone at this event, because every pro team in league by now knows, three events into the season, that this team plays with reckless abandon, and pushes hard, no matter who they are playing.
They've placed 9th at all three events, but they've have impressed everyone from foes to fans with a fearless on-field attitude. 187 could very well be a top team given some time to develop. In their first pro game ever, they almost beat the second ranked team in the world right now, Moscow Red Legion, losing in sudden death overtime.
Click to read the full UpTon 187 cRew Scouting Report
---

In what should be a rebuilding year, the Los Angeles Ironmen have shocked everyone but themselves as they're currently ranked 4th in the league. By now it's apparent the younger players Coach Kevin Bredthauer has chosen to rebuild this historic franchise came to play some to paintball this season. Bredthauer has his work cut out for him choosing a starting five, as the team is chock full of hungry talent on all sides of the field.
Click to read the full Los Angeles Ironmen Scouting Report
---

Tampa Bay Damage ruled the paintball world from mid 2011 to early 2012, winning 3 events in a row and going undefeated in those events. No one could touch them as they destroyed team after team, using a combination of teamwork, dominating gunfights, and smart mid game adjustments to run the table on the best teams in the world.
After winning the first event of the year they haven't lived up to their own high standards. Infamous, in particular, has played a part in tearing them from their pedestal, and has had their number for the past two events.
Click to read the full Tampa Bay Damage Scouting Report
---

Los Angeles Infamous finally fulfilled their potential by winning the last event in Chicago. They're a team which has been plagued with underperformance and penalties for the past couple years, but it's looking like, with their revamped, Midwest based roster, they're finally putting those days behind them.
Click to read the full Los Angeles Infamous Scouting Report
---

Houston Heat is currently the number ranked team in the world. But they took 5th at the last event in Chicago, their worst performance so far, losing to Damage in the quarter-finals. They took second in their first event together and won the next event in Phoenix. Success so early in life of a team is unheard of. But, given the All-Star roster assembled by Owner Randy Smith, it's not that surprising.
Click to read the full Houston Heat Scouting Report
---

Moscow Red Legion has proved in 2012 their long respected, Championship caliber system of training players is alive and well. They are currently ranked 2nd in the world after taking two second place finishes in a row.
Their three new pick-ups for 2012 are on fire. Marcello Margott is the number 1 player in the league and is devastating people on the Dorito side of the field, and with the layout for this event, there's no reason to think he won't continue to excel. It's amazing how well he's playing this season, as he blew his knee out last year and spent the off-season laid up in bed and pondering his future, wondering if he could ever play the game again. He's only 22 years old but is already a World Champ and whatever demons he fought when he was unable to walk, he defeated, emerging from his second knee surgery and subsequent rehab playing better than he ever has.
Click to read the full Moscow Red Legion Scouting Report